Publication:
Electrochemical Affinity Biosensors in Food Safety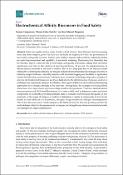 Advisors (or tutors)
Editors
Abstract
Safety and quality are key issues of today's food industry. Since the food chain is becoming more and more complex, powerful analytical methods are required to verify the performance of food safety and quality systems. Indeed, such methods require high sensitivity, selectivity, ability for rapid implementation and capability of automatic screening. Electroanalytical chemistry has, for decades, played a relevant role in food safety and quality assessment, taking more and more significance over time in the solution of analytical problems. At present, the implementation of electrochemical methods in the food is evident. This is in a large part due to the relevant results obtained by combining the attractive advantages of electrochemical transduction strategies (in terms of relatively simple hardware, versatility, interface with automatic logging and feasibility of application outside the laboratory environment) with those from biosensors technology. Important examples of enzyme electrochemical biosensors are those dedicated to the determination of glucose, alcohol or cholesterol are important examples. In addition, other types of different electrochemical biosensing approaches have emerged strongly in the last years. Among these, the strategies involving affinity interactions have been shown to possess a large number of applications. Therefore, electrochemical immunosensors and DNA-based biosensors have been widely used to determine major and minor components in foodstuffs, providing sufficient data to evaluate food freshness, the quality of raw materials, or the origin of samples, as well as to determine a variety of compounds at trace levels related to food safety such as micotoxins, allergens, drugs residues or pathogen microorganisms. This review discusses some critical examples of the latest advances in this area, pointing out relevant methodologies related to the measurement techniques, including the use of nanostructured electrodes and strategies for signal amplification.
Collections