Publication:
Factores barrera y facilitadores de la calidad de vida en personas con trastorno del espectro del autismo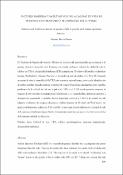 Authors
Advisors (or tutors)
Editors
Abstract
El Trastorno de Espectro del Autismo (TEA) es un trastorno del neurodesarrollo que acompaña a la persona durante todo su ciclo vital. Existen pocos estudios que hayan evaluado la calidad de vida de adultos con TEA y discapacidad intelectual (DI) acompañante. El objetivo del estudio es identificar factores " facilitadores" y factores " barrera" en la calidad de vida de adultos con TEA y DI. Teniendo en cuenta la elevada comorbilidad del TEA con trastornos internalizantes, junto con la identificación de ciertas variables transdiagnósticas es interesante conocer el papel que desempeñan como variables predictoras de la calidad de vida en la población TEA con DI. El estudio pretende comparar el impacto de tres variables transdiagnósticas (Intolerancia a la Incertidumbre, disfunción ejecutiva y desregulación emocional) y variables clínicas (depresión, ansiedad y TOC) en la calidad de vida (objetiva y subjetiva) de un grupo de personas adultas (mayores de 18 años) con TEA frente a un grupo control (personas adultas sin TEA con DI). Conocer qué factores influyen en la calidad de vida de la persona es fundamental para diseñar intervenciones, servicio y apoyos en todas las facetas vitales de la persona, incluida la educación.
Autism Spectrum Disorder (ASD) is a neurodevelopmental disorder that accompanies the person throughout their life cycle. There are few studies that have evaluated the quality of life of adults with ASD and intellectual disabilities (ID). The objective of the study is to identify "facilitating" and "barrier" factors in the quality of life of adults with ASD and ID. Taking into account the high comorbidity of ASD with internalizing disorders, together with the identification of certain transdiagnostic variables, it is interesting to know the role they play as predictors of quality of life in the ASD population with ID. The study aims to compare the impact of three transdiagnostic variables (Intolerance to Uncertainty, executive dysfunction and emotional dysregulation) and clinical variables (depression, anxiety and OCD) on the quality of life (objective and subjective) of a group of adults (older 18 years old) withASD compared to a control group (adults without ASD with ID). Knowing what factors influence the person's quality of life is essential to design interventions, service and supports in all vital facets including education.
Citation
• American Psychiatric Association. (2013). Diagnostic and statistical manual of mental disorders: DSM 5. In APA (Ed.) (5th ed.). Washington, DC. • Ayres, M., J, P., Mason, M., Rodgers, J., Avery, L., & Flynn, D. (2018). A systematic review of quality of life of adults on the autism spectrum.https://doi.org/10.1177/1362361317714988 • Bakken, T., Helverschou, S. B., Eilertsen, D. E., Heggelund, T.,Myrbakk, E., & Martinsen, H. (2010). Psychiatric disorders in adolescents and adults with autism and intellectual disability: A representative study in one county in Norway. Research in Developmental Disabilities, 31(6), 1669– 1677.https://doi.org/10.1016/j.ridd.2010.04.009 • Billstedt, E. (2011). Aspects of quality of life in adults diagnosed with autism in childhood as the individual's perception of their position in life in the context of the culture and value system and in relation to their goals, expectations, standards and concerns. It inco. SAGE Publications and The National Autistic Society Health Organisation, 15(346066), 7– 20. https://doi.org/10.1177/1362361309346066 • Billstedt, E., Gillberg, C., & Gillberg, C. (2005). Autism after adolescence: population-based 13-to 22-year follow-up study of 120 individuals with autism diagnosed in childhood. Journal of Autism and Developmental Disorders, 35(3), 351– 360. • Billstedt, E., Gillberg, I.,& Gillberg, C. (2011). Aspects of quality of life in adults diagnosed with autism in childhood: A population-based study. Autism, 15(1), 7– 20. https://doi.org/10.1177/1362361309346066 • Bishop-Fitzpatrick, L., Mazefsky, C. A., Eack, S. M. (2017). The combined impact of social support and perceived stress on quality of life in adults with autism spectrum disorder and without intellectual disability. Autism, 136236131770309. https://doi.org/10.1177/1362361317703090 • Bishop-Fitzpatrick, L., Mazefsky, C. A., Minshew, N. J., & Eack, S. M. (2015). The relationship between stress and social functioning in adults with autism spectrum disorder and without intellectual disability. Autism Research : Official Journal of the International Society for Autism Research, 8(2), 164– 173. https://doi.org/10.1002/aur.1433 • Bishop-Fitzpatrick, L., Smith DaWalt, L., Greenberg, J. S., Mailick, M. R. (2017). Participation in recreational activities buffers the impact of perceived stress on quality of life in adults with autism spectrum disorder. Autism Research, 10(5), 973– 982. https://doi.org/http://dx.doi.org/10.1002/aur.1753 • Bradley, E. A., Summers, J. A., Wood, H. L., & Bryson, S. E. (2004). Comparing rates of psychiatric and behavior disorders in adolescents and young adults with severe intellectual disability with and without autism. Journal of Autism and Developmental Disorders, 34(2), 151– 161. https://doi.org/10.1023/B:JADD.0000022606.97580.19 • Bruggink, A., Huisman, S., Vuijk, R., Kraaij, V., & Garnefski, N. (2016). Cognitive emotion regulation, anxiety and depression in adults with autism spectrum disorder. Research in AutismSpectrumDisorders, 22, 34– 44. https://doi.org/10.1016/j.rasd.2015.11.003 • Cervantes, P., & Matson, J. (2015). Comorbid Symptomology in Adults with Autism Spectrum Disorder and Intellectual Disability. Journal of Autism and Developmental Disorders, 45(12), 3961– 3970. https://doi.org/10.1007/s10803-015-2553-z • Croen, L. A., Zerbo, O., Qian, Y., Massolo, M. L., Rich, S., Sidney, S., & Kripke, C. (2015).The health status of adults on the autism spectrum. Autism, 19(7), 814– 823. https://doi.org/10.1177/1362361315577517 • Cummins, R. A. (2000). Objective and subjective quality of life: An interactive model. Social Indicators Research. https://doi.org/10.1023/A:1007027822521 • Cummins, R. A. (2005). Moving from the quality of life concept to a theory. Journal of Intellectual Disability Research, 49(10), 699– 706. • Dijkhuis, R. R., Ziermans, T. B., Van Rijn, S., Staal, W. G., & Swaab, H. (2016). Self-regulation and quality of life in high-functioning young adults with autism. Autism, 21(7), 896– 906. https://doi.org/10.1177/1362361316655525 • Farley, M. A., McMahon, W. M., Fombonne, E., Jenson, W. R., Miller, J., Gardner, M., … Coon, H. (2009). Twenty-year outcome for individuals with autism and average or near-average cognitive abilities. Autism Research, 2(2), 109– 118. https://doi.org/10.1002/aur.69 • Gal, E., Selanikyo, E., Bar-Haim Erez, A., Katz, N., Erez, A. B.-H., & Katz, N. (2015). Integration in the Vocational World: How Does It Affect Quality of Life and SubjectiveWell-Being of Young Adults with ASD. International Journal of Environmental Research and Public Health, 12(9), 12. https://doi.org/10.3390/ijerph120910820 • García-Villamisar, D., & Dattilo, J. (2010). Effects of a leisure programme on quality of life and stress of individuals with ASD. Journal of Intellectual Disability Research, 54(7), 611– 619. https://doi.org/http://dx.doi.org/10.1111/j.1365-2788.2010.01289.x • García-Villamisar, D. (2017). Dolor en personas adultas con un trastorno del espectro del autismo (TEA) y comorbilidad: un análisis mediacional. Pain in adults with autism spectrum disorders and comorbidity: a mediational analysis. Revista Española de Discapacidad, 5(2), 73– 86. https://doi.org/10.5569/2340 • Ghaziuddin, M., & Zafar, S. (2008). Psychiatric comorbidity of adults with autism spectrum disorders. Clinical Neuropsychiatry, 5(1), 9– 12. • Happé, F., & Charlton, R. A. (2011). Aging in autism spectrum disorders: A mini-review. Gerontology. https://doi.org/10.1159/000329720 • Helles, A., Gillberg, I. C., Gillberg, C., & Billstedt, E. (2016). Asperger syndrome in males over two decades: Quality of life in relation to diagnostic stability and psychiatric comorbidity. Autism, 21(4), 458– 469. https://doi.org/10.1177/1362361316650090 • Hong, J., Bishop-Fitzpatrick, L., Smith, L. E., Greenberg, J. S., & Mailick, M. R. (2015). Factors Associated with Subjective Quality of Life of Adults with Autism Spectrum Disorder: Self-Report Versus Maternal Reports. J Autism Dev Disord, 46(4), 1368–1378. https://doi.org/10.1007/s10803-015-2678-0 • Kamp-Becker, I., Schröder, J., Remschmidt, H., Bachmann, C. J., & Schroder, J. (2010). Health-related quality of life in adolescents and young adults with high functioning autism-spectrum disorder (Gesundheitsbezogene Lebensqualität bei Jugendlichen und jungen Erwachsenen mit Autismus-Spektrum-Störung. GSM Psycho-Social-Medicine, 7,1– 10. https://doi.org/10.3205/psm000065 • Kirsch, A. ., Huebner, A. R. S., Mehta, S. Q., Howie, F. R., Weaver, A. L., Myers, S. M., …Katusic, S. K. (2019). Association of Comorbid Mood and Anxiety Disorders with Autism Spectrum Disorder. JAMA Pediatrics. https://doi.org/10.1001/jamapediatrics.2019.4368 • Knüppel, A., Telléus, G. K., Jakobsen, H., & Lauritsen, M. B. (2018). Quality of life in adolescents and adults with autism spectrum disorder: Results from a nationwide Danish survey using self-reports and parental proxy-reports. Research in Developmental Disabilities, 83, 247– 259. • Lever, A. G., & Geurts, H. M. (2016). Psychiatric Co-occurring Symptoms and Disorders in Young, Middle-Aged, and Older Adults with Autism Spectrum Disorder. Journal of Autism and Developmental Disorders, 46(6), 1916– 1930. https://doi.org/10.1007/s10803-016-2722-8 • Lin, L.-Y. (2014). Quality of life of Taiwanese adults with autism spectrum disorder. PLoS ONE, 9(10), e109567. https://doi.org/10.1371/journal.pone.0109567 • Lin, L.-Y., & Huang, P.-C. P.-C. (2017). Quality of life and its related factors for adults with autism spectrum disorder. Disability and Rehabilitation. https://doi.org/10.1080/09638288.2017.1414887 • Lugnegård, T., Hallerbäck, M. U., & Gillberg, C. (2011). Psychiatric comorbidity in young adults with a clinical diagnosis of Asperger syndrome. Research in Developmental Disabilities, 32(5), 1910– 1917. https://doi.org/10.1016/j.ridd.2011.03.025 • Maenner, M. J., Shaw, K. A., & Baio, J. (2020). Prevalence of Autism Spectrum Disorder Among Children Aged 8 Years— Autism and Developmental Disabilities Monitoring Network, 11 Sites, United States, 2016. MMWR Surveillance Summaries, 69(4), 1. • Mannion, A., & Leader, G. (2014). Sleep Problems in Autism Spectrum Disorder: A Literature Review. Review Journal of AutismandDevelopmental Disorders, 1(2), 101– 109. https://doi.org/10.1007/s40489-013-0009-y • Mason, D., Mcconachie, H., Garland, D., Petrou, A., Rodgers, J., & Parr, J. R. (2018). Predictors of quality of life for autistic adults. Autism Research, 11(8), 1138– 1147. https://doi.org/http://dx.doi.org/10.1002/aur.1965 • Matson, J., & Boisjoli, J. A. (2008). Autism spectrum disorders in adults with intelectual disability and comorbid psychopathology: Scale development and reliability of the ASD-CA. Research in Autism Spectrum Disorders, 2(2), 276– 287. https://doi.org/10.1016/j.rasd.2007.07.002 • Matson, J.,&LoVullo, S. V. (2009). Trends and topics in autism spectrum disorders research. Research in Autism Spectrum Disorders, 3(1), 252– 257. https://doi.org/10.1016/j.rasd.2008.06.005 • Morgan, C., Roy, M., & Chance, P. (2003). Psychiatric comorbidity and medication use in autism: a community survey., 378– 381. • Moss, P., Mandy, W., & Howlin, P. (2017). Child and Adult Factors Related to Quality of Life in Adults with Autism. Journal of Autism and Developmental Disorders, 47, 1830–1837. https://doi.org/10.1007/s10803-017-3105-5 • Mouridsen, S. E., Rich, B., Isager, T., & Nedergaard, N. J. (2008). Psychiatric disorders in individuals diagnosed with infantile autism as children: A case control study. Journal of Psychiatric Practice, 14(1), 5– 12. https://doi.org/10.1097/01.pra.0000308490.47262.e0 • Petry, K., Kuppens, S., Vos, P., & Maes, B. (2010). Psychometric evaluation of the Dutch version of the Mood, Interest and Pleasure Questionnaire (MIPQ). Research in Developmental Disabilities, 31(6), 1652– 1658. https://doi.org/10.1016/j.ridd.2010.04.011 • Petry, K., & Maes, B. (2006). Identifying expressions of pleasure and displeasure by persons with profound and multiple disabilities. Journal of Intellectual and Developmental Disability, 31(1), 28– 38. https://doi.org/10.1080/13668250500488678 • Postorino, V., Vicari, S., & Mazzone, L. (2016). Mood disorders and autism spectrum disorder. In Psychiatric Symptoms and Comorbidities in Autism Spectrum Disorder (pp. 1–19). Springer International Publishing. https://doi.org/10.1007/978-3-319-29695-1_1 • Renty, J., & Roeyers, H. (2006). Quality of life in high-functioning adults with autism spectrum disorder: The predictive value of disability and support characteristics. Autism : The International Journal of Research and Practice, 10(5), 511– 524. https://doi.org/10.1177/1362361306066604 • Saldaña, D., Alvarez, R. M., Lobaton, S., Lopez, A. M. A. M., Moreno, M., Rojano, M., & Alvarez, R. M. (2009). Objective and subjective quality of life in adults with autism spectrum disorders in southern Spain. Autism, 13(3), 303– 316. https://doi.org/10.1177/1362361309103792 • Sandín, B., Chorot, P., & Valiente, R. M. (2012). Transdiagnóstico: Nueva frontera en psicología clínica. Revista de Psicopatologia y Psicologia Clinica, 17(3), 185– 203. Retrieved from www.aepcp.net • Schalock, R. L., Keith, K. D., Verdugo, M. Á., & Gómez, L. E. (2010). Quality of Life Model Development and Use in the Field of Intellectual Disability. In Enhancing the Quality of Life of People with Intellectual Disabilities (pp. 17– 32). https://doi.org/10.1007/978-90-481-9650-0 • Simonoff, E., Pickles, A., Charman, T., Chandler, S., Loucas, T., & Baird, G. (2008). Psychiatric disorders in children with autism spectrum disorders: prevalence, comorbidity, and associated factors in a population-derived sample. Journal of the American Academy of Child and Adolescent Psychiatry, 47(8). https://doi.org/10.1097/CHI.0b013e318179964f • Thede, L. L. (2010). Neuropsychological, social, and emotional factors contributing to quality of life for high-functioning adults with an autism spectrum disorder. ProQuest Dissertations and Theses. • Tobin, M. C., Drager, K. D. R., & Richardson, L. F. (2014). A systematic review of social participation for adults with autism spectrum disorders: Support, social functioning, and quality of life. Research in Autism Spectrum Disorders, 8(3), 214– 229. https://doi.org/10.1016/j.rasd.2013.12.002 • Urzúa, A., & Caqueo-Urízar, A. (2012). Revisión teórica y mesura del concepto calidad de vida. Terapia Psicológica, 30(1), 61– 71. https://doi.org/10.4067/S0718-48082012000100006 • van Heijst, B. F. C., & Geurts, H. M. (2015). Quality of life in autism across the lifespan: A meta-analysis. Autism, 19(2), 158– 167. https://doi.org/10.1177/1362361313517053 • Vos, P., De Cock, P., Petry, K., Van Den Noortgate,W., & Maes, B. (2013). Investigating the relationship between observed mood and emotions in people with severe and profound intellectual disabilities. Journal of Intellectual Disability Research, 57(5), 440–451. https://doi.org/10.1111/jir.12021 • White, K., Flanagan, T. D., & Nadig, A. (2018). Examining the relationship between self-determination and quality of life in young adults with autism spectrum disorder. Journal of Developmental and Physical Disabilities. https://doi.org/http://dx.doi.org/10.1007/s10882-018-9616-y • Zablotsky, B., Black, L. I., Maenner, M. J., Schieve, L. A., & Blumberg, S. J. (2015). Estimated Prevalence of Autism and Other Developmental Disabilities Following Questionnaire Changes in the 2014 National Health Interview Survey. National Health Statistics Reports, (87), 1– 20. Retrieved from http://www.ncbi.nlm.nih.gov/pubmed/26632847