Publication:
Gestión municipal del patrimonio mundial en tiempo de crisis: Tarragona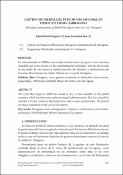 Advisors (or tutors)
Editors
Publisher
Universidad Complutense de Madrid, Servicio de Publicaciones
Abstract
La crisis iniciada en 2008 ha provocado una situación muy grave en la economía mundial, que se ha notado en las administración municipal. Esto ha provocado la necesidad de una dràstica reestructuración de objetivos y optimización de recursos. Presentamos un primer balance en el caso de Tarragona.
The crisis that began in 2008 has caused a very serious situation in the global economy, which has been seen in the municipal administration. This has caused the need for a drastic restructuring of objectives and resource optimization. We present an initial assessment in the case of Tarragona.
Collections