Publication:
Conservación y restauración de esculturas en yeso en la Real Academia de Bellas Artes de San Fernando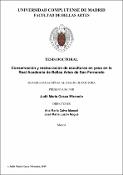 Advisors (or tutors)
Editors
Publisher
Universidad Complutense de Madrid
Abstract
La utilización de modelos en yeso de las esculturas de la Antigüedad Clásica para la enseñanza de los artistas dio lugar en el pasado a la creación de gipsotecas o galerías históricas. Actualmente se conservan muchas de estas piezas que permiten el conocimiento de aquellas colecciones y constituyen una importante fuente documental en la que se registra la evolución del gusto en Europa durante siglos, las antiguas restauraciones, las modificaciones sobre la obra original, el trabajo en los talleres, los contratos de su manufactura, entre otros aspectos. En el presente, las galerías de esculturas en yeso se enfrentan al problema de su conservación, perdido ya su uso docente. En España, una de las colecciones más completas es la que conserva la Real Academia de Bellas Artes de San Fernando, en cuyo proyecto de conservación se lleva trabajando desde hace años. El desarrollo de nuevos métodos de limpieza, junto con el estudio analítico y técnico del amplio abanico de obras de distinta procedencia que comprende, ha dado lugar al impulso necesario para la conservación de otras muchas colecciones europeas...
The use of plaster models of classical sculptures in the teaching of artists, led to the creation of plaster casts or historical galleries, where many of these pieces are still preserved. This allows the access to the collections and they constitute an important documentary source in which the evolution of taste in Europe for centuries is recorded. The old restorations, the modifications on the original sculptures, the workshops, the way they did the contracts ... Currently, gypsum sculpture galleries face the problem of their conservation. One of the most beautiful and complete collections is the one preserved at the Royal Academy of Fine Arts of San Fernando, whose conservation project has been carried for years. The development of new cleaning methods, together with the analytical and technical study of a wide range of pieces of different origins, has enhanced the care and conservation of many other European collections...
Description
Tesis inédita de la Universidad Complutense de Madrid, Facultad de Bellas Artes, leída el 05/11/2019
Collections