Publication:
"Mala aetas nvilla delenimenta invenit" o la paradoja de Afranio. Entre el fragmento y la cita*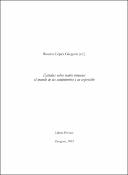 Authors
Advisors (or tutors)
Editors
Abstract
A verse written by the comediographer Afranius, mala aetas nulla delenimenta inuenit, caused an interesting discussion among several French and Spanish philologists ca. 1864. Alfredo Adolfo Camus' proposal, based on the inductive method of Francis Bacon, was the most original. Un verso del comediógrafo Afranio, mala aetas nulla delenimenta inuenit, suscitó una interesante polémica filológica entre varios eruditos franceses y españoles hacia 1864. De entre ellos, la propuesta de Alfredo Adolfo Camús, basada en el método inductivo de Francis Bacon, fue la más novedosa de todas.
Collections