Publication:
E-nfermería. Las nuevas tecnologías al servicio de la enfermería en el siglo XXI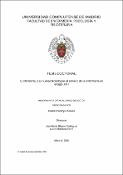 Files
Authors
Advisors (or tutors)
Editors
Publisher
Universidad Complutense de Madrid
Abstract
La enfermería es, dentro de todas las profesiones de la salud, la que más tiempo y esfuerzo ha dedicado siempre a cuidar de los demás, de manera que ha convertido el cuidado humano en el núcleo de su existencia. El cuidado enfermero desarrolla conocimientos específicos a través de la investigación básica y aplicada y se apoya en la tecnología, la legislación, la economía de la salud y las técnicas educativas y de gestión y tiene la calidad asistencial como objetivo fundamental. Por otro lado, existen una serie de dispositivos que permiten intercambiar información y hacen posible la comunicación entre las personas, las tecnologías de la información y la comunicación (TIC), que en los últimos años han tenido tal desarrollo que para algunos autores se ha producido una nueva "revolución social", dando lugar a un nuevo tipo de sociedad cuyo motor es la información. En torno a esta, han surgido profesiones y trabajos nuevos, o se han readaptado las profesiones existentes, permitiendo la interacción a distancia entre individuos y facilitando el comercio, la ciencia, el entretenimiento, la educación, y un sinnúmero de actividades relacionadas con la vida del siglo XXI. En este nuevo tipo de sociedad, la lectura y la escritura ya no son suficientes. La alfabetización básica ha dejado de ser una preocupación en la sociedad actual y se vuelve a oír hablar de letrados y analfabetos en la Sociedad de la Información. Y es que, actualmente ya no basta que las personas, especialmente los profesionales y técnicos, sepan leer y escribir. Ni siquiera resulta suficiente el manejo básico de un ordenador, el teléfono o cualquier otra tecnología. Hoy por hoy se exige una alfabetización informacional que significa que, no solo se debe saber que la información existe, sino conocer cómo buscar, encontrar, utilizar y manipular una información para que se convierta en conocimiento individual y social...
Nursing is, within all health professions, that one which has always been dedicated more time and effort to caring for others, so that human care has become the core of their existence. Nursing care develops specific knowledge through basic and applied researching and relies on technology, legislation, health economics and educational and management techniques and also has the quality of care as a fundamental objective. On the other hand, there are a certain number of devices that exchange information and enable communication between people, information and communications technologies (ICT), which in recent years have had such development that some authors say it has happened a new "social revolution", leading to a new type of society whose engine is information. Around this, new professions and jobs have arisen, or existing professions have readapted, allowing remote interaction between individuals and facilitating trade, science, entertainment, education, and a host of activities related to the life of the XXI century. In this new type of society, reading and writing are no longer sufficient. Basic literacy is no longer a concern in today's society and it is heard about literate and ignorant individuals in the Information Society again. And, now it is no longer enough that people, especially professionals and technicians, literate. Even it is not sufficient the basic use of a computer, telephone or any other technology. Today an information literacy is required which means that not only it should be known that the information exists, but knowing how to search, find, use and manipulate information so that it becomes individual and social knowledge...
Description
Tesis inédita de la Universidad Complutense de Madrid, Facultad de Enfermería, Podología y Fisioterapia, leída el 08-05-2017
Collections