Publication:
Event stratigraphy of the upper Cretaceous to lower Eocene hemipelagic sequences of the Prebetic Zone (SE Spain): Record of the onset of tectonic convergence in a passive continental margin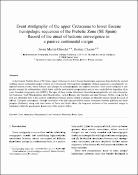 Advisors (or tutors)
Editors
Abstract
In the Eastern Prebetic Zone of SE Spain, upper Cretaceous to lower Eocene hemipelagic sequences deposited in the ancient southern passive continental margin of Iberia are well exposed. The long-term stratigraphy of these sequences is punctuated by six regional tectonic events, which induced rapid changes in palaeogeography and regional tectonics. Each event configured a new genetic scenario for sedimentation, which lasted until the next tectonic reorganization and, in turn, controlled the deposition of an event bounded stratigraphic unit (EBSU). The ages of these events, determined chronobiostratigraphically, are: intra-Coniacian, late Santonian, "mid" Maastrichtian, latest Maastrichtian–earliest Danian, late Thanetian and intra-Ypresian. All the events, but the first, are interpreted here as the result of contractional tectonic pulses, related to changes in intraplate stresses during the onset of African–European convergence. Through correlations with both adjacent shallow marine carbonates (Prebetic platform) and basin pelagites (Subbetic), along with other basins of Iberia and North Africa, the long-term evolution of the continental margin is integrated within the geodynamic framework of the western Tethys.
Collections