Publication:
El sobreendeudamiento privado como causa de la crisis financiera y su necesario enfoque multidisciplinar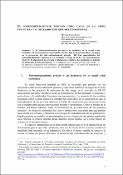 Authors
Advisors (or tutors)
Editors
Abstract
La mayoría de los estudios realizados sobre la crisis financiera mundial han coincidido en la conclusión de que el endeudamiento de las personas naturales y la falta de mecanismos adecuados para tratar con él pueden tener graves repercusiones sociales y económicas. Abordar el tratamiento preventivo del sobreendeudamiento privado es una prioridad legislativa y el enfoque debe ser multidisciplinar. Por un lado, el tratamiento paliativo de la insolvencia de los particulares juega un papel relevante también en el terreno preventivo, para lo cual la legislación concursal constituye pilar fundamental de nuestro ordenamiento que debe necesariamente revisarse. Por otro lado, son precisas medidas eficaces que actúen en la fase previa de la concesión de créditos, haciendo realidad la noción de préstamo responsable procurando una adecuada evaluación de la solvencia del deudor, para lo cual es imprescindible favorecer que el prestamista pueda acceder a información económica fiable de los particulares, lo que exige cambios en la legislación de protección de datos personales que brinden un adecuado tratamiento a los ficheros positivos de solvencia patrimonial. Por su parte, la solución al sobreendeudamiento hipotecario presenta ciertas particularidades y no debe recibir respuesta desde el ámbito concursal, sino con oportunas reformas en la Ley de Enjuiciamiento Civil.
The majority of the studies carried out about the financial crisis have arrived at the same conclusion that the indebtedness of individuals and lack of appropriate mechanisms to deal with it can have serious social and economic repercussions. Deciding on the preventive treatment of private indebtedness is a legislative priority and its focus should be multidisciplinary. Palliative treatment of insolvency of individuals plays an important role in the field of prevention and as such, it is the pillar of the exisiting bankruptcy law. This should be reviewed as necessary. However, there are specific measures that are taken (an evaluation on the solvency of the debtor), which encourages responsible lending, before credit is offered. This is the reason why it is essential to promote access to the credit history of individuals by lenders. This requires changes in legislation for data protection so that positive information of solvency can be taken into account and used accordingly. Furthermore the solution to mortgage debt has certain peculiarities and should not be dealt with under insolvency but, under Civil Law Procedures and with appropriate reforms.
Collections