Publication:
A new algebraization of the Lame equation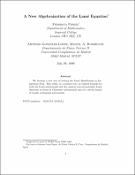 Advisors (or tutors)
Editors
Abstract
We develop a new way of writing the Lame Hamiltonian in Lie-algebraic form. This yields, in a natural way, an explicit formula for both the Lame polynomials and the classical non-meromorphic Lame functions in terms of Chebyshev polynomials and of a certain family of weakly orthogonal polynomials.
Description
© 2000 IOP Publishing Ltd. Supported in part by DGES Grant PB98-0821.
Citation
[1] Ince E L 1939–40 Proc. R. Soc. Edin. 60 47–63 [2] Ince E L 1939–40 Proc. R. Soc. Edin. 60 83–99 [3] Erdélyi A, Magnus W, Oberhettinger F and Tricomi F G 1955 Higher Transcendental Functions vol III (New York: Mc-Graw Hill) [4] Arscott F M 1964 Periodic Differential Equations (Oxford: Pergamon) [5] Alhassid Y, Gürsey F and Iachello F 1983 Phys. Rev. Lett. 50 873–6 [6] Braibant S and Brihaye Y 1993 J. Math. Phys. 34 2107–14 [7] Kofman L, Linde A and Starobinsky A A 1994 Phys. Rev. Lett. 73 3195–8 [8] Greene P B, Kofman L, Linde A and Starobinsky A A 1997 Phys. Rev. D 56 6175–92 [9] Turbiner A V 1989 J. Phys. A: Math. Gen. 22 L1–3 [10] González-López A, Kamran N and Olver P J 1994 Contemp. Math. 160 113–40 [11] Ushveridze A G 1994 Quasi-Exactly Solvable Models in Quantum Mechanics (Bristol: IOP Publishing) [12] Olver P J 1997 GROUP21: Physical Applications and Mathematical Aspects of Geometry, Groups and Algebras ed H-D Doebner et al (Singapore: World Scientific) pp 285–95 [13] Razavy M 1980 Am. J. Phys. 48 285–8 [14] Finkel F, Gonzalez-López A and Rodríguez M A 1999 J. Phys. A: Math. Gen. 32 6821–35 [15] Ward R S 1987 J. Phys. A: Math. Gen. 20 2679–83 [16] Ulyanov V V and Zaslavskii O B 1992 Phys. Rep. 216 180–251 [17] Brihaye Y and Godart M 1993 J. Math. Phys. 34 5283–91 [18] Finkel F, Gonzalez-López A and Rodríguez M A 1996 J. Math. Phys. 37 3954–72 [19] Turbiner A V 1988 Commun. Math. Phys. 118 467–74 [20] González-López A, Kamran N and Olver P J 1993 Commun. Math. Phys. 153 117–46 [21] Turbiner A V 1992 J. Phys. A: Math. Gen. 25 L1087–93 [22] Finkel F and Kamran N 1998 Adv. Appl. Math. 20 300–22 [23] Turbiner A V and Ushveridze A G 1987 Phys. Lett. A 126 181–3 [24] Bender C M and Dunne G V 1996 J. Math. Phys. 37 6–11
Collections