Publication:
Relación entre las habilidades de solución de problemas sociales y los rasgos emocionales negativos de la personalidad: la "tríada emocional negativa" (depresión, ansiedad e ira)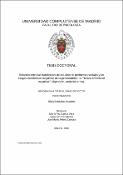 Files
Advisors (or tutors)
Editors
Publisher
Universidad Complutense de Madrid
Abstract
Numerosas investigaciones han encontrado una relación entre las habilidades de solución de problemas y el ajuste psicológico, llegando algunas a proponer que estas habilidades, cuando son eficaces, constituyen un factor de protección frente a las situaciones difíciles o traumáticas de la vida, mientras que cuando son ineficaces constituyen un factor de riesgo para la ansiedad, la depresión, la ira y otros síntomas psicológicos (Nezu, Nezu y D'Zurilla, 2013). Otros estudios han señalado, sin embargo, que, en contra de la predicción general de los modelos de habilidades de solución de problemas propuestos por D'Zurilla y Goldfried (1971) y D'Zurilla, Nezu y Maydeu-Olivares (2002, 2004, 2014), no todos los componentes de estas habilidades tendrían el mismo peso a la hora de explicar el ajuste psicológico o el desarrollo de síntomas psicológicos. Estos estudios han afirmado, de hecho, que el aspecto motivacional –la orientación hacia el problema y, más particularmente, la orientación negativa hacia el problema– sería el más importante y explicaría gran proporción de los resultados encontrados en la investigación...
Many investigations have established the relation between problem solving skills and psychological adjustment. Some have even proposed that, when effective, these skills may constitute a protective factor in the face of difficult and/or traumatic situations in life, while, when ineffective, they may become a risk factor for depression, anxiety, anger and other psychological symptoms (Nezu, Nezu y D'Zurilla, 2013). However, other studies indicate that, contrary to general problem solving skills models predictions proposed by D'Zurilla and Goldfried (1971) and D'Zurilla, Nezu and Maydeu-Olivares (2002, 2004, 2014), not all these skills' components can be weighted equally when analyzing psychological adjustment, or when dealing with the development of psychological symptoms. In fact, such studies have affirmed that the motivational aspect -problem orientation and particularly negative problem orientationwould be the most important aspect, and would account for a large portion of the results found in this investigation...
Description
Tesis inédita de la Universidad Complutense de Madrid, Facultad de Psicología, leída el 18-01-2016
Collections