Publication:
La experiencia del usuario en producciones audiovisuales interactivas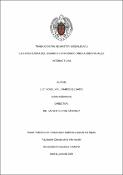 Authors
Advisors (or tutors)
Editors
Abstract
Esta investigación tiene como objetivo describir la experiencia del usuario en las producciones audiovisuales interactivas, ya que se observa que dicho fenómeno ha adquirido relevancia en los últimos años y que existe una relación intrínseca entre ambos términos. Los objetivos específicos de esta investigación son: Identificar el nivel de interactividad que prefiere el usuario en las producciones audiovisuales interactivas, conocer la usabilidad de las producciones audiovisuales interactivas, determinar si las narrativas interactivas potencian los contenidos, especificar las emociones que despierta el consumo de producciones audiovisuales interactivas en el usuario, conocer la importancia del dispositivo en el que se visualicen las producciones audiovisuales interactivas y por último evaluar la experiencia del usuario en las producciones audiovisuales con interactividad elevada. La metodología está enfocada en un diseño mixto, es decir, un diseño documental y de campo, a nivel descriptivo. La población está conformada por cualquier persona mayor de edad, sin distinción de género, ni de edad, con la pretensión mínima de las respuestas de al menos 150 personas, seleccionadas bajo muestreo no probabilístico específicamente el muestreo causal o accidental. Los resultados provienen de la implementación de la técnica de la encuesta y como instrumento el cuestionario, el mismo fue respondido por aquellos individuos interesados en participar.
This research aims to describe the user experience in interactive audiovisual productions, since it is observed that this phenomenon has become relevant in recent years and that there is an intrinsic relationship between both terms. The specific objectives of this research are: Identify the level of interactivity that the user prefers in interactive audiovisual productions, know the usability of interactive audiovisual productions, determine if interactive narratives enhance the contents, specify the emotions aroused by the consumption of productions interactive audiovisuals in the user, knowing the importance of the device in which interactive audiovisual productions are visualized and finally evaluating the user experience in audiovisual productions with high interactivity. The methodology is focused on a mixed design, that is, a documentary and field design, on a descriptive level. The population is made up of any person of legal age, without distinction of gender or age, with the minimum claim of the responses of at least 150 people, selected under non-probabilistic sampling, specifically the causal or accidental sampling. The results come from the implementation of the survey technique and as an instrument the questionnaire was answered by those individuals interested in participating.