Publication:
Los vaciados de la Gipsoteca de la Facultad de Bellas Artes: procedencia de las esculturas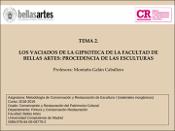 Authors
Advisors (or tutors)
Editors
Abstract
Relación de las distintas colecciones artísticas de las que proceden las esculturas de la Gipsoteca de la Facultad de Bellas Artes de la UCM. Se trata de la colección de la reina Cristina de Suecia, del pintor Anton Rafael Mengs, del escultor Juan Domingo Olivieri, de las excavaciones de Herculano promovidas por el rey Carlos III y las adquiridas a través de los museos Real Museo de Paris (Louvre) y el Museo de Atenas. Este tema se imparte en la asignatura Metodología de Conservación y Restauración de Escultura I (materiales inorgánicos) de tercer curso del grado de Conservación y restauración del patrimonio cultural.
List of the different artistic collections from which the sculptures of the Gipsoteca of the Faculty of Fine Arts of the UCM come. These collections are the collection of Queen Christina of Sweden, the artist Anton Rafael Mengs, the sculptor Juan Domingo Olivieri, the excavations of Herculaneum, promoted by King Carlos the 3rd and those acquired through the Royal Museum of Paris (Louvre) and the Museum of Athens. This class is taught in the subject Conservation Methodology and Restoration of Sculpture I (inorganic materials) of the third year of the degree of Conservation and Restoration of Cultural Heritage.