Publication:
Adaptation of the classical end-point ITS-PCR for the diagnosis of avian trichomonosis to a real-time PCR reveals Bonelli's eagle as a new host for Trichomonas gypaetinii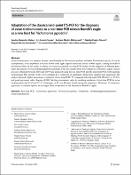 Authors
Martín Maldonado, Bárbara
Advisors (or tutors)
Editors
Abstract
Avian trichomonosis is a parasitic disease caused mainly by Trichomonas gallinae and other Trichomonas species. It can be asymptomatic, or it can produce a necrotic lesion in the upper digestive tract and spread to other organs, causing the death of the infected birds. In this study, we aimed to evaluate an adapted real-time PCR method for the diagnosis of different genotypes and species of avian oropharyngeal trichomonads. Fifty-six samples from the oropharynx of Bonelli's eagles (Aquila fasciata) obtained between 2018 and 2019 were analyzed using the real-time PCR and the end-point PCR, both targeting trichomonads ITS, and the results were compared by a coefficient of agreement. All positive samples were sequenced. The analysis showed a higher percentage of detection of real-time PCR ITS compared with end-point PCR ITS (64.3 vs 55.4%), and good agreement value (Kappa = 0.816). Melting temperature value for resulting amplicons of real-time PCR for avian trichomonads was 83.45 ± 0.72 °C. Genotypes A, D, and III were found among the sequences. Moreover, Trichomonas gypaetinii, a common species in scavenger birds, is reported for the first time in Bonelli's eagles.
Description
CRUE-CSIC (Acuerdos Transformativos 2022)
Collections