Publication:
Consideraciones sobre los métodos recursivos de cálculo de la probabilidad de ruina: caso horizonte temporal finito y tiempo discreto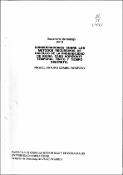 Files
Authors
Advisors (or tutors)
Editors
Publisher
Facultad de Ciencias Económicas y Empresariales. Decanato
Abstract
El presente trabajo se centra en estos dos aspectos: El primero es confirmar que los distintos métodos expuestos de cálculo recursivo de funciones son adecuados para obtener el valor de la probabilidad del suceso supervivencia (complementario del suceso de la ruina) con horizonte finito t y consideración temporal discreta (hecho realizado anteriormente por los autores de cada método). El segundo aspecto consiste en establecer la forma y las condiciones de equivalencia entre los métodos: de manera que podamos comparar conclusiones o ejemplos obtenidos por alguno de estos métodos con otras consideraciones extraídas de los restantes.
Citation
Beard, R. E. (1971): 0n the calculation of the ruin probability for a finite time period. ASTIN bulletin. Dec. 1971. Vol. VI. Part. 2. Pgs 129-133. Beard, R. E.; Pentikäinen, T and Pesonen, E (1984): Risk Theory. Chapman and Hall publishers. New York. Pgs 227-233. Bühlmann, H (1970): Mathematical methods in risk theory. Springer-Verlag, Berlin. Pgs. 137-139. De Vylder, F and Goovaerts, M. J. (1988): Recursive calculation of finite time ruin probabilities. Insurance: mathematics and economics; 7. 1988; pgs 93-97. Wikstad, N (1971): Exemplification of ruin probabilities. ASTIN bulletin 6; pgs 147-152.