Publication:
Análisis de las posibles diferencias en la cobertura editorial de El País y Le Figaro del conflicto de Yemen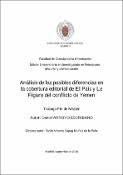 Authors
Advisors (or tutors)
Editors
Abstract
En el año 2014, diversos factores combinados durante décadas resultaron en una guerra en Yemen en la que participan diferentes bandos del país árabe, y otros países de Oriente Medio, África, Europa y América. Las consecuencias del conflicto son miles de víctimas, millones de personas desplazadas y una crisis humanitaria causada por el peor brote de cólera de la historia. El principal objetivo de este trabajo es determinar cuál de las dos corrientes principales del periodismo de guerra caracteriza a El País y Le Figaro, y si sus coberturas editoriales reflejan fielmente la realidad de Yemen, mediante el análisis de sus respectivas publicaciones. La investigación concluye que la mayoría de noticias de ambos medios se sitúan en el periodismo no intervencionista, tratando de forma completa la crisis humanitaria, y con un análisis poco profundo de la guerra y sus porqués.
In 2014, many factors along decades resulted into a war in Yemen in which different bands of the Arab country participate, as well as other countries from Middle East, Africa, Europe and America. The consequences of this conflict are thousands of victims, millions of displaced people and a humanitarian crisis caused by the worst cholera outbreak in history. The aim of this work is to determinate which of the two main ways of war journalism characterizes El País and Le Figaro, and if their editorial coverage faithfully reflect the situation in Yemen, by analyzing their respective publications. The investigation concludes that most of the news from both media are positioned in noninterventionist journalism, with a deep report about the humanitarian crisis, and a superficial analyze of the war and its causes.