Publication:
La influencia del word of mouth electrónico sobre las ventas de un refresco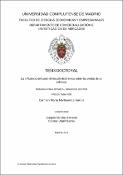 Files
Authors
Advisors (or tutors)
Editors
Publisher
Universidad Complutense de Madrid
Abstract
La comunicación boca-oreja/boca-boca o Word of Mouth, término adquirido del idioma anglosajón, es considerada una de las formas de comunicación con mayor influencia en el comportamiento de compra de los consumidores, jugando un importante rol en la modificación de las actitudes y patrones de consumo (Brown & Reingen, 1987). En la actualidad, los avances en la tecnología de la comunicación, han permitido que la información compartida entre consumidores supere las barreras geográficas propagándose de forma inmediata. Internet ofrece numerosas plataformas y puntos de reunión donde los consumidores pueden compartir sus visiones, preferencias o experiencia con los productos (Trusov, Bucklin, & Pauwels, 2009) El WOM que se genera en las redes sociales en Internet (eWOM) puede ser observado, medido y analizado. Debido a que estas conversaciones que se dan en plataformas de opinión quedan semi permanentemente archivadas, las marcas pueden explotar la información, extrayendo conocimiento acerca del consumidor que pueda facilitar la gestión de sus estrategias de marketing (Kozinets, Valck, Wojnicki, & Wilner, 2010). Esto ofrece grandes oportunidades para la investigación de la comunicación y el marketing permitiendo medir la repercusión de la comunicación interpersonal en el negocio de las compañías. La investigación que se plantea en esta Tesis Doctoral pretende conocer y analizar el fenómeno del WOM como factor influenciador en el comportamiento de compra de los consumidores. El objetivo principal es entender el comportamiento del WOM electrónico como variable influyente en las ventas de un producto y cuantificar su eficacia. Es decir, identificar en qué medida la información acerca de un producto compartida por los usuarios en entornos online, puede tener un efecto significativo en su resultado de ventas...
The WOM communication is considered as the biggest communication form influencer in consumer purchase behaviour. It plays an important role changing attitude and consumption behaviour. (Brown & Reingen, 1987). Nowadays, technological progress has permitted breaking geographical boards by the information shared between consumers; being spread instantaneously. Internet offers a number of platforms where consumers are able to share their points of view, preferences and product experiences (Trusov et al. 2009). The WOM that is generated in Social Media (eWOM) can be observed, measured and analysed. Due to that conversations are semi-permanent stored; brands have the opportunity to make use of this information, taking knowledge with regards to the consumer that helps to create new marketing strategies (Kozinets, et al. 2010). This offers a great opportunity for marketing and communication research and allows the measurement of the interpersonal communication effect over the company key performance indicators. This dissertation tries to know and to analyse the WOM phenomenon as influencer factor in the consumer purchase behaviour. The main objective is to understand the eWOM as an influence variable in the product sales and quantify the effectiveness. That is, to identify to what extend the information regarding a product shared by online users can have a significate effect on sales performance. Besides, it is an objective of this dissertation to dig deeper in WOM communication study, to stabling a theoretical background that allow us to know the main features, evolution, causal relations and influence factors around this kind of communication...
Description
Tesis inédita de la Universidad Complutense de Madrid, Facultad de Ciencias Económicas y Empresariales, Departamento de Comercialización e Investigación de Mercados, leída el 11/01/2016
Collections