Publication:
Influencia de la matriz alimentaria y el procesado en la estabilidad, bioaccesibilidad y metabolismo de compuestos fenólicos naturales en un modelo dinámico de digestión gastrointestinal y fermentación colónica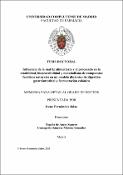 Files
Authors
Advisors (or tutors)
Editors
Publisher
Universidad Complutense de Madrid
Abstract
Los compuestos fenólicos son compuestos bioactivos presentes de forma habitual en nuestra dieta a través de la ingesta de productos de origen vegetal. Entre las distintas familias de compuestos fenólicos destacan los flavonoides como el flavonol quercetina y sus derivados glicosilados por sus importantes propiedades antioxidantes, antiinflamatorias, anticancerígenas y antivirales, encontrándose además en vegetales muy consumidos a diario en todo el mundo como la cebolla y la manzana. Los efectos saludables de la ingesta de productos derivados de manzana pueden estar relacionados con otros grupos de compuestos fenólicos como los ácidos hidroxicinámicos, flavan-3-oles y dihidrochalconas. Los beneficios para la salud derivados de la ingesta de alimentos vegetales no sólo dependen de la presencia y concentración de los compuestos fenólicos en el alimento, sino también de su bioaccesibilidad y de la biotransformación por la microbiota del colon de aquellos compuestos fenólicos no bioaccesibles...
Phenolic compounds are bioactive compounds commonly present in our diet through the intake of plant derived products. Among the different families of phenolic compounds, flavonoids such as the flavonol quercetin and its glycosylated derivatives stand out by their antiinflammatory, anticarcinogenic and antiviral properties, and also found in vegetables widely consumed daily around the world such as apple and onion. The beneficial effects of apple-derived products consumption may be related with other phenolic compounds groups such as hydroxycinnamic acids, flavan-3-ols and dihydrochalcones. The health-protecting effects of plant foods not only depends on the presence and concentration of phenolic compounds, but also on their bioaccessibility and the biotransformation by the colon microbiota of non-bioaccessibles phenolic compounds. Nowadays, the food industry focuses on the development of novel foods or functional ingredients with a high phenolic compounds content that provide beneficial health properties beyond their own nutritional value and prevent disease development...
Description
Tesis inédita de la Universidad Complutense de Madrid, Facultad de Farmacia, leída el 27-11-2020
Collections