Publication:
Estrategias para el análisis por luminiscencia de micotoxinas de alternaria utilizando polímeros de impronta molecular como elementos de reconocimiento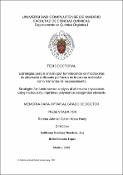 Authors
Advisors (or tutors)
Editors
Publisher
Universidad Complutense de Madrid
Abstract
La contaminación de alimentos por hongos no es únicamente un inconveniente en lo que respecta a su comercialización debido a que provoca su deterioro, –con las consecuentes pérdidas económicas–, sino que también representa una amenaza para la salud animal y humana. Algunos de los metabolitos secundarios producidos por dichos hongos presentan una toxicidad aguda o crónica. Estos metabolitos se conocen como micotoxinas, y normalmente son moléculas de pequeño a mediano tamaño que son bastante estables a las condiciones de cocinado o de congelado. Por esa razón, no son fáciles de eliminar de los alimentos una vez que se han producido. Se requieren por tanto controles de calidad que permitan evitar ominimizar la introducción de estas sustancias tóxicas en la cadena alimentaria. Las toxinasmás comunes en productos de agricultura son producidas por las familias de hongos Aspergillus, Penicillium, Fusarium o Alternaria. La última familia, Alternaria, produce varias micotoxinas de diversos tipos estructurales, de las cuales, las cinco principales son: alternariol, alternariol monometil éter y altenueno como benzopironas; ácido tenuazónico,como ácido tetrámico, y altertoxina-I, que es un derivado de tipo perileno. Estas toxinas pueden encontrarse en cereales, granos, frutas y vegetales, y también en comida procesada como cerveza, vino o derivados de tomate.
Food contamination with fungi is not only an inconvenience for food marketing because itcauses food decay, –with the consequent economic losses–, but it also brings about animaland human health hazards. Some of the secondary metabolites produced by fungi have acuteor chronic toxicity. These metabolites are known as mycotoxins and are normally small tomedium size molecules that are rather stable to storage or cooking conditions. For this reason,they are not easy to eliminate from food once they are produced. Food quality controls arerequired in order to avoid or minimize the introduction of these toxic substances in the foodchain. The most common toxins in agricultural goods are produced by the Aspergillus,Penicillium, Fusarium or Alternaria fungi families. The latter family, Alternaria, produces anumber of mycotoxins, belonging to different structural classes, the five major compounds ofwhich are alternariol, alternariol methyl ether and altenuene, as benzopyrone derivatives;tenuazonic acid, which is a tetramic acid derivative, and altertoxin-I, a perylene derivative.These products can be found in cereals, grains, fruits and vegetables, and also in processedfoods such as beer, wine or tomato produces. Recent studies have pointed out that most ofthese substances are mutagenic, teratogenic and/or carcinogenic so that mycotoxins havebecome a major concern for public health. Both alternariol and alternariol monomethyl ether,which are frequently found in combination, were found to be mutagenic. Alternariol is alsoinvolved in the development of squamous cell carcinoma and has been linked to precancerouschanges associated with the oesophagal mucosa in mice.
Description
Tesis de la Universidad Complutense de Madrid, Facultad de Ciencias Químicas, Departamento de Química Orgánica I, leída el 06-07-2017
Collections