Publication:
El concepto de trabajador en el contexto de la protección flexible del Derecho del Trabajo en la Unión Europea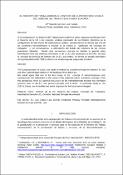 Authors
Advisors (or tutors)
Editors
Abstract
Si la europeización del Derecho del Trabajo pudiera definirse como respuesta equilibrada entre el Derecho de la UE y los sistemas jurídicos nacionales de los Estados Miembros en la configuración de este sector del ordenamiento jurídico, convendríamos en afirmar que una de las cuestiones trascendentales a resolver es la relativa al significado del concepto de trabajador y, en consecuencia, la delimitación del ámbito de cobertura de las normas protectoras laborales. Desde esta perspectiva concreta se plantea la general sobre interrelación entre dos sistemas normativos, el de la UE y los nacionales de los EMs, en base al principio de primacía del Derecho de la UE y sus límites; se afronta un estudio sistemático de la jurisprudencia del TJUE al efecto y se atisban algunas propuestas de futuro.
The Europeanization of Labor Law could be defined as a balanced response between EU law and MSs' national legal systems in the building of EU Labor Law. We would agree that one of the key issues is the concept of worker/employee and, consequently, the delimitation of the scope of the protective labour standards coverage. From this perspective, there is a general discussion on the interrelationship between two normative systems; also, on the EU Law' primacy principle and its limits. A systematic study of the CJEU's Cases Law is handled and some proposals for the future are envisaged.
Collections