Publication:
¿Un diálogo de sordos? Libertad de expresión vs. sentimientos religiosos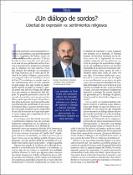 Advisors (or tutors)
Editors
Abstract
Los atentados de París contra una semanario satírico han reavivado el debate entre quienes defienden una libertad de expresión a ultranza y quienes recuerdan que no se debe ofender gratuitamente los sentimientos religiosos de otras personas.
The attacks in Paris against a satirical weekly have rekindled the debate between those who defend freedom of expression at all costs and who sustain that free speech should not offend religious feelings of others.
UCM subjects
Derecho constitucional
,
Derecho eclesiástico
,
Filosofía del Derecho
,
Derecho comparado
Unesco subjects
5605.04 Derecho Constitucional
,
5601 Derecho Canónico
,
5602.03 Filosofía del Derecho
,
5602.02 Derecho Comparado
Collections