Publication:
Desarrollo de una Plataforma de Soporte para Juegos de Rol en Línea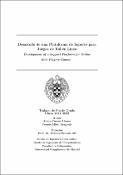 Advisors (or tutors)
Editors
Abstract
Existen infinidad de historias que esperan el momento adecuado para ser contadas, se gestan en la mente de uno o varios autores y son compartidas y disfrutadas con el público que las quiere escuchar. En el mundo de los juegos de rol toda la diversión se encuentra precisamente en sacar a la luz esas historias, convirtiendo la narración en un juego de creatividad literaria e interpretación actoral que disfrutamos en un grupo de amigos. Actualmente hay plataformas web que permiten jugar al rol "de lápiz y papel" en línea, aunque no resultan del todo atractivas para nuevos jugadores y tienen una curva de aprendizaje mejorable. Tomando como referencia estas plataformas, y aprovechando material de trabajos anteriores sobre videojuegos del grupo de investigación, este proyecto se propone desarrollar una nueva plataforma de soporte para juegos de rol en línea que, sin desvirtuar el concepto clásico de juego de rol, incorpore el aspecto y las sensaciones de los videojuegos actuales. El objetivo es ayudar a esas personas que quieren acercarse al mundo de los juegos de rol, que está viviendo un nuevo resurgir, con una herramienta sencilla que, explicando unos conceptos básicos a los jugadores, les permita integrarse dentro de una partida y disfrutar de atractivas historias. Para comprobar su utilidad, tras realizar un estudio de las funcionalidades que debería tener nuestra herramienta y analizar los distintos sistemas de rol que se utilizan comúnmente, se han realizado algunas pruebas con esta nueva plataforma sobre un grupo reducido de jugadores. Se han planteado partidas cortas en distintos escenarios y situaciones, estudiando el resultado en términos de funcionalidad y usabilidad a través de una encuesta. Los resultados son alentadores teniendo en cuenta el estado preliminar del desarrollo de la herramienta.
There are countless stories waiting for the right moment to be told, they are conceived in the mind of one or several authors and are shared and enjoyed by the public that wants to listen to them. In the world of role-playing games, all the fun lies precisely in bringing those stories to light, turning the narrative into a game of literary creativity and acting performance that we enjoy with a group of friends. Currently there are web platforms that allow you to play the "pencil and paper" role online, although they are not entirely attractive to new players and have an improvable learning curve. Taking these platforms as a reference, and taking advantage of material from previous work on video games by the research group, this project aims to develop a new support platform for online role-playing games that, without distorting the classic role-playing game concept, incorporates the look and the sensations of current video games. The objective is to help those people who want to get closer to the world of role-playing games, which is experiencing a new resurgence, with a simple tool that, by explaining some basic concepts to the players, allows them to get into a game and enjoy attractive stories. To verify its usefulness, after carrying out a study of the functionalities that our tool should have and analyzing the different role systems that are commonly used, some tests have been carried out with this new platform on a small group of players. Short games have been proposed in different scenarios and situations, studying the result in terms of functionality and usability through a survey. The results are encouraging considering the preliminary state of the development of the tool.
Description
Trabajo de Fin de Grado en Ingeniería Informática y en Ingeniería de Computadores, Facultad de Informática UCM, Departamento de Ingeniería del Software e Inteligencia Artificial, Curso 2021/2022.