Publication:
La víctima como sujeto político. Una aproximación antropológica al movimiento de víctimas y afectados por el conflicto armado interno peruano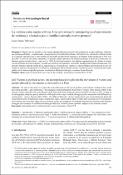 Authors
Advisors (or tutors)
Editors
Publisher
Universidad Complutense de Madrid
Abstract
El objetivo de este artículo es el de aportar algunas reflexiones en torno a las condiciones sociales, políticas y culturales que habrían posibilitado –y condicionado– el surgimiento y desarrollo de la militancia del colectivo de víctimas de conflicto armado en el contexto específico que se abre en Perú con el establecimiento de la Comisión de la Verdad y la Reconciliación (CVR) en el año 2001. A través de una mirada etnográfica, se prestará especial atención a las formas en las que, a través de la interacción con distintos agentes sociales claves –como son las ONG de derechos humanos–, las distintas organizaciones de víctimas en el país van incorporando los marcos legales y morales que se les hacen disponibles a través del paradigma de la justicia transicional y los derechos humanos para dar cuenta de sus experiencias de victimización y violencia y para reivindicar sus derechos de acceso a la verdad, la justicia y la reparación. En definitiva, se pretenderá dar cuenta del proceso a través del cual la víctima deviene sujeto político en el contexto específico peruano, recurriendo a diferentes estrategias y recursos de movilización.
The aim of this article is to provide some reflections on the social, political and cultural conditions that would have made possible – and conditioned – the emergence and development of activism of victims of the armed conflict in the specific context opened by the establishment of the Truth and Reconciliation Commission (TRC) in Peru, in 2001. In light of an ethnographic analysis, special attention will be paid to the ways in which, through specific interaction with different key social agents – such as human rights NGOs – the different Peruvian victims' organizations are incorporating the legal and moral frameworks of transitional justice and human rights, which enables them to share their experiences of victimization and violence and claim their rights of access to truth, justice and reparation. In summary, this article will analyze the different strategies and resources for mobilization through which the victim becomes a political subject in the Peruvian context.
Collections