Publication:
De la minus-valía a la diversidad funcional: un nuevo marco teórico-metodológico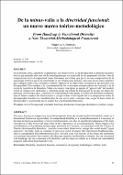 Advisors (or tutors)
Editors
Publisher
Universidad Complutense de Madrid
Abstract
En el presente texto, a partir de las propuestas del modelo social de la discapacidad, se propone un marco teórico que pretende abrir una vía de investigación que vaya más allá de sus propuestas iniciales. Para la comprensión de la discapacidad como fenómeno social hay que partir de una comprensión de la genealogía histórica que la ha constituido en sus dimensiones actuales, así como de un marco analítico que explique como esas estructuras cobran vigencia en la experiencia cotidiana de las personas con discapacidad. Ello conduce a la consideración de las tecnologías normalizadoras de Foucault y de la teoría de la práctica de Bourdieu. Sobre este marco conceptual se apunta el "gran olvido" del modelo el cuerpo como catalizador y sedimento de las estructuras de dominación de las que son objeto las personas con discapacidad. Considerar la corporalidad como punto de reflexión prioritario permitirá, cara al futuro, superar las limitaciones a las que se han visto sujetas las tres perspectivas sobre la discapacidad tomadas en consideración, la que versa sobre la minusvalía, la que lo hace sobre la discapacidad y la emergente que se orienta hacia la diversidad funcional.
This text, having as a departure point the proposals from the social model of disability, tends to a theorethical framework beyond them. To comprehend disability as a social phenomenon it is neccesry to develop an historical genealogy of its current dimensions, and also an analithical explanation of the daily inscription of this historical structures in the experience of disabled people. These implies the consideration of disciplinary technologies proposed by Foucault, in connection with the Theory of Practice developed by Bourdieu. Upon this conceptual fremework, emerge the social model "great omission": the body; body as recipient of opressive social structures that experiment disabled people. Take in consideration this embodiement as key reflexion issue will provide, in the future, the oportunity to overcome limitatinos that constrict the three perspectives on disability evaluated: the one concerned with handicap, the one concerned with disability, and the other one which, as a critical not consolidated proposal, talks about functional diversity.
Collections