Publication:
Análisis de DAHMER - Monstruo: la historia de Jeffrey Dahmer: realidad, ficción e impacto en la sociedad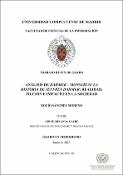 Authors
Advisors (or tutors)
Editors
Abstract
Desde su arresto hasta nuestros días, la historia y los crímenes de Jeffrey Dahmer han sido representados de distintas maneras en la industria cinematográfica, siendo la más reciente la serie DAHMER – Monstruo: La historia de Jeffrey Dahmer (2022). Su estreno se enmarca en una época en la que el género true crime posee gran éxito entre el público, a pesar de recibir críticas tanto positivas como negativas. Este trabajo analiza la veracidad de los hechos representados en la serie, las consecuencias que tuvo su estreno, las respuestas de la audiencia y la forma en que se aborda la representación de una historia que, en función de cómo se cuente, puede aumentar el dolor de víctimas y familiares.
From the time of his arrest until the present day, Jeffrey Dahmer's story and crimes have been portrayed in various ways in the film industry. The most recent series is DAHMER – Monster: The Jeffrey Dahmer Story (2022). Its release comes at a time when the true-crime genre is enjoying great public success, despite both positive and negatives reviews. This paper analyses the veracity of the events depicted in the series, the consequences of its release, the reactions of audiences, and the way it deals with the representation of a story that, depending on how it is told, can increase the pain of victims and their families.