Publication:
Crisis y estrategias migratorias de reproducción social. Un análisis a partir del estudio de la migración ecuatoriana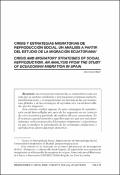 Authors
Advisors (or tutors)
Editors
Publisher
Universidad Pontificia Comillas
Abstract
Las trayectorias migratorias se caracterizan cada vez más por su carácter cambiante y por presentar continuas rupturas, transformaciones y recomposiciones en función de las circunstancias globales y de las estrategias de reproducción social desarrolladas por los migrantes. Este artículo analiza algunas de estas estrategias de reproducción social desarrolladas por parte de los migrantes en un contexto de crisis económica partiendo del análisis del caso ecuatoriano. En él se presta especial atención a aquellos aspectos que son más determinantes en la construcción del proyecto migratorio y a las formas en que se produce la articulación de las estrategias productivas y reproductivas dentro del grupo doméstico. En el texto, se señala la necesidad de pensar de forma unitaria y englobadora el proyecto migratorio y el retorno como parte de un mismo proceso a la vez que se destaca la importancia de adoptar una perspectiva procesual en el análisis de las migraciones.
Migratory paths are characterised by their changing character and by their constant breakdowns, transformations and recompositions depending on global circumstances and on social reproduction strategies developed by migrants. This paper analyses some strategies of social reproduction developed by migrants under economic crisis, starting from the analysis of Ecuadorian migration. We pay special attention to those aspects which are crucial for the construction of the migratory project and the forms in which the development of productive and reproductive strategies are linked in the domestic group. This text advocates the need to think the migratory project and the return in a united and comprehensive manner as a part of the same process. Finally, we highlight the importance of adopting an evolving perspective in the analysis of migrations.
Collections