Publication:
Representaciones sociales de género en Twitter: el caso chileno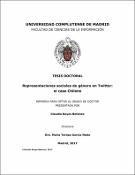 Files
Authors
Advisors (or tutors)
Editors
Publisher
Universidad Complutense de Madrid
Abstract
Desde su creación en el 2006, Twitter se ha transformado en una poderosa herramienta comunicacional. Esta nueva plataforma virtual, al igual que los medios tradicionales, es capaz de construir identidades, difundir representaciones sociales y configurarse como un punto básico en la construcción de un imaginario de sociedad. Uno de los temas que ha estado presente en los discursos y en la realidad de la sociedad chilena hace muchas décadas ha sido la desigualdad y, en los últimos años la desigualdad de género ha tomado un papel relevante. Sin embargo, pese a la notoriedad que han tenido los discursos referidos a la discriminación de género, las representaciones sociales que se perciben a través del discurso siguen manteniendo una visión desinformada y machista del fenómeno. Este trabajo se centra específicamente en conocer cuáles son las representaciones sociales de genero que se establecen en Twitter. Para el análisis se optó por un enfoque cualitativo y se utilizó el Análisis Crítico de Discurso (ACD), principalmente porque este enfoque permite, por una parte, revelar las contradicciones dentro de los discursos y la forma en que éstos se convierten en afirmaciones racionales e indiscutibles, para luego transformarse en representaciones sociales que identifican a los individuos con un contexto social, aspectos culturales y momentos históricos específicos. Por otra parte, esta forma de análisis permite un meta análisis de los mecanismos sociopolíticos y culturales en los que se sustenta la reproducción del poder, prestando especial atención al análisis de los discursos e ideologías que lo legitiman.
When the Internet emerged and the social networks began to be massively used, an optimistic view was developed regarding these new forms of communication. The Web 2.0 ensured that the new dynamics of communication would grant greater power of participation to citizens, illuminate phenomena and problems hitherto hidden in the shadows and give voice to those who until now did not feel represented in the traditional media. Since its invention in 2006, Twitter has transformed itself into a powerful media channel. In a very short time it has become a virtual public square, where the limits to deliver information, opinions and connect with other individuals from anonymity, if preferred, are quite broad. In Chile the number of users or is increasing day by day, reaching more than one million users in a country of 17 million...
Description
Tesis inédita de la Universidad Complutense de Madrid, Facultad de Ciencias de la Información, leída el 21-07-2017
Collections