Publication:
Las mujeres artistas en el arte contemporáneo. Un estudio de caso en el Museo Nacional Centro de Arte Reina Sofía: recorridos con adolescentes por la Colección 3, de la revuelta a la posmodernidad.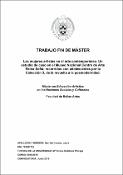 Authors
Advisors (or tutors)
Editors
Abstract
La investigación presente recoge un estudio de caso en el ámbito de la educación artística para adolescentes, de cómo mejorar la proyección y visibilización de la mujer artista en la colección permanente expuesta del Museo Nacional Centro de Arte Reina Sofía (MNCARS). Para ello, se ha partido del análisis cuantitativo de las obras pertenecientes a la Colecciones 1, 2 y 3, así como de las propuestas educativas ofertadas por la propia institución en base a la inclusión de las artistas en sus respectivos planteamientos. Comprobamos que el museo cuenta con dos problemas principales; por un lado, no existe paridad alguna en la línea expositiva de la institución, ni en sus actividades. Por otro lado, a día de hoy vemos como el sector adolescente no puede disfrutar una oferta educativa específica en este Museo. Partiendo de las necesidades advertidas en ésta primera fase de investigación, se formula nuestra propuesta práctica dirigida a adolescentes que está dividida en dos partes. En la primera de ellas, se propone un recorrido mediado por las obras de mujeres artistas situadas en la Colección 3, para establecer un espacio de reflexión acerca de dicha problemática. En la segunda parte, con el fin de consolidar los contenidos de la primera parte de la sesión, creamos una imagen colectiva a través de estrategias colaborativas. Los resultados recopilados en esta segunda fase de investigación se analizaron de manera cuantitativa y cualitativa. Finalmente, las conclusiones muestran unos resultados positivos que ratifican la hipótesis formulada al inicio de la investigación.
The present research contains a case study from the area of teenager-oriented art education, related to how to improve projection and visibilization of female artists in the permanent collection of Museo Nacional Centro de Arte Reina Sofía (MNCARS). For that purpose, the research starts from a quantitative analysis of all the artworks contained inside Collections 1, 2 and 3, as well as from educative proposals oriented to include female artists that come from the museum itself. We can check that the museum has two main problems. On the one hand, there is no parity neither in the expositive line nor in the activities that the museum promotes; on the other hand, young people does not have any specifical educative offer in this museum. On the basis of these needs that we have found in the first stage of the research, a practical proposal directed to teenagers is brought, splitted into two parts. The first one puts forward a guided path through the work of female artists from the Collection no. 3, aiming to establish a reflexive space about this issue. The second part will consist of creating a collective image through collaborative strategies, making an effort to consolidate the contents that have been developed in the first stage. Results from the second part of the research were analyzed from a quantitatively as well as from a qualitative approach. Finally, the conclusion shows positive results, that valid the hypothesis made at the starting point of the research.