Publication:
Quantifying spatial correlations of general quantum dynamics [and ERRATUM]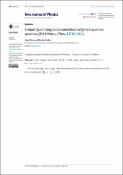 Advisors (or tutors)
Editors
Abstract
Understanding the role of correlations in quantum systems is both a fundamental challenge as well as of high practical relevance for the control of multi-particle quantum systems. Whereas a lot of research has been devoted to study the various types of correlations that can be present in the states of quantum systems, in this work we introduce a general and rigorous method to quantify the amount of correlations in the dynamics of quantum systems. Using a resource-theoretical approach, we introduce a suitable quantifier and characterize the properties of correlated dynamics. Furthermore, we benchmark our method by applying it to the paradigmatic case of two atoms weakly coupled to the electromagnetic radiation field, and illustrate its potential use to detect and assess spatial noise correlations in quantum computing architectures.
Description
© 2015 IOP Publishing Ltd and Deutsche Physikalische Gesellschaft. We acknowledge interesting discussions with T Monz andDNigg, as well as financial support by the Spanish MINECO grant FIS2012-33152, the CAM research consortium QUITEMAD grant S2009-ESP-1594, the European Commission PICC: FP7 2007-2013, Grant No. 249958, the UCM-BS grant GICC-910758 and the US Army Research Office through grant W911NF-14-1-0103.
Citation
[1] Breuer H-P and Petruccione F 2002 The Theory of Open Quantum Systems (Oxford: Oxford University Press) [2] Gardiner CWand Zoller P 2004 Quantum Noise (Berlin: Springer) [3] Rivas A and Huelga S F 2011 Open Quantum Systems. An Introduction (Heidelberg: Springer) [4] Dicke RH1954 Phys. Rev. 93 99 [5] Monz T, Schindler P, Barreiro J T, Chwalla M, Nigg D, CoishWA, Harlander M, Hänsel W, HennrichMand Blatt R 2011 Phys. Rev. Lett. 106 130506 [6] Crubellier A, Liberman S, PavoliniDand Pillet P 1985 J. Phys. B: At. Mol. Phys. 18 3811 [7] Zanardi P and RasettiM1997 Phys. Rev. Lett. 79 3306 [8] LidarDA, Chuang I L and WhaleyKB 1998 Phys. Rev. Lett. 81 2594 [9] LidarDA, Bacon D, Kempe J and WhaleyKB 2001 Phys. Rev. A 63 022306 LidarDA, Bacon D, Kempe J and WhaleyKB 2001 Phys. Rev. A 63 022307 [10] Kielpinski D, Meyer V, RoweMA, SackettCA, ItanoWM, MonroeCand WinelandDJ 2001 Science 291 1013 [11] HaeffnerHet al 2005 Appl. Phys. B 81 151 [12] Clemens J P, Siddiqui S and Gea-Banacloche J 2004 Phys. Rev. A69 062313 [13] Klesse R and Frank S 2005 Phys. Rev. Lett. 95 230503 [14] Aharonov D, Kitaev Aand Preskill J 2006 Phys. Rev. Lett. 96 050504 [15] Preskill J 2013 Quantum Inf. Comput. 13 181 [16] Novais E and BarangerHU2006 Phys. Rev. Lett. 97 040501 Novais E and Mucciolo E R 2013 Phys. Rev. Lett. 110 010502 [17] Shabani A 2008 Phys. Rev.A 77 022323 [18] Caruso F, Chin AW, Datta A, Huelga S F and PlenioMB 2009 J. Chem. Phys. 131 105106 [19] Rebentrost P, MohseniMand Aspuru-Guzik A 2009 J. Phys. Chem. B 113 9942 [20] Nazir A 2009 Phys. Rev. Lett. 103 146404 [21] Fassioli F, Nazir A and Olaya-Castro A2010 J. Phys. Chem. Lett. 1 2139 [22] Nalbach P, Eckel J and ThorwartM2010 New J. Phys. 12 065043 [23] WuJ, Liu F, Shen Y, Cao J and Silbey R J 2010 New J. Phys. 12 105012 [24] Olbrich C, Strümpfer J, SchultenKand KleinekathöferU2011 J. Phys. Chem. B 115 758 [25] Sarovar M, Cheng Y-C and Whaley KB 2011 Phys. Rev. E 83 011906 [26] Strümpfer J and SchultenK2011 J. Chem. Phys. 134 095102 [27] AbramaviciusDand Mukamel S 2011 J. Chem. Phys. 134 174504 [28] Jeske J, Ing D, PlenioMB, Huelga S F and Cole JH2015 J. Chem. Phys. 142 064104 [29] Diehl S, Micheli A, Kantian A, Kraus B, BüchlerHP and Zoller P 2008 Nat. Phys. 4 878 [30] Verstraete F, WolfMMand Cirac J I 2009 Nat. Phys. 5 633 [31] Schindler P, Müller M, Nigg D, Barreiro J T, Martinez E A, Hennrich M, Monz T, Diehl S, Zoller P and Blatt R 2013 Nat. Phys. 9 361 [32] Olmos B, YuDand Lesanovsky I 2014 Phys. Rev.A 89 023616 [33] Lee T E, Chan C-K and Yelin S F 2014 Phys. Rev. A 90 052109 [34] Jeske J, Cole JHand Huelga S F 2014 New J. Phys. 16 073039 [35] WolfMM, Eisert J, Cubitt T S and Cirac J I 2008 Phys. Rev. Lett. 101 150402 [36] Breuer H-P, Laine E-M and Piilo J 2009 Phys. Rev. Lett. 103 210401 [37] Rivas A, Huelga S F and PlenioMB 2010 Phys. Rev. Lett. 105 050403 [38] Lu X-M, WangXand SunCP 2010 Phys. Rev. A 82 042103 [39] Luo S, Fu S and SongH2012 Phys. Rev. A 86 044101 [40] Lorenzo S, Plastina F and PaternostroM2013 Phys. Rev. A 88 020102(R) [41] HallMJ W, Cresser JD, Li L and Andersson E 2014 Phys. Rev. A 89 042120 [42] Bylicka B, ChruścińskiDand Maniscalco S 2014 Sci. Rep. 4 5720 [43] Rivas A, Huelga S F and PlenioMB 2004 Rep. Prog. Phys. 77 094001 [44] Jeske J and Cole JH2013 Phys. Rev. A 87 052138 [45] Emerson J, Silva M, Moussa O, Ryan C, Laforest M, Baugh J, CoryDGand Laflamme R 2007 Science 317 1893 [46] NielsenMA and Chuang I L 2000 Quantum Computation and Quantum Information (Cambridge: Cambridge University Press) [47] Fölling S, Trotzky S, Cheinet P, Feld M, Saers R, Widera A, Müller T and Bloch I 2007 Nature 448 1029 [48] Lewenstein M, Sanpera Aand Ahufinger V2012 Ultracold Atoms in Optical Lattices Simulating Quantum Many-Body Systems (Oxford:Oxford University Press) [49] NägerlHC, Bechter W, Eschner J, Schmidt-Kaler F and Blatt R 1998 Appl. Phys. B 66 603 [50] Kraus B and Cirac J I 2001 Phys. Rev. A 63 062309 [51] NielsenMA, Dawson CM, Dodd J L, Gilchrist A, Mortimer D, Osborne T J, BremnerMJ, Harrow AWand Hines A 2003 Phys. Rev. A 67 052301 [52] Linden N, Smolin J Aand Winter A 2009 Phys. Rev. Lett. 103 030501 [53] ChoiM-D 1975 Linear Algebr. Appl. 10 285 [54] JamiołkowskiA 1972 Rep. Math. Phys. 3 275 [55] PlenioMB and Virmani S 2007 Quantum Inf. Comput. 7 1 [56] Brandão FGS L and PlenioMB 2008 Nat. Phys. 4 873 [57] GourGand Spekkens RW2008 New J. Phys. 10 033023 [58] Brandão FGS L, Horodecki M, Oppenheim J, Renes JMand Spekkens RW2013 Phys. Rev. Lett. 111 250404 [59] Veitch V, Mousavian SA H, GottesmanDand Emerson J 2014 New J. Phys. 16 013009 [60] Baumgratz T, CramerMand PlenioMB 2014 Phys. Rev. Lett. 113 140401 [61] de Vicente J I 2014 J. Phys. A: Math. Theor. 47 424017 [62] Gour G, MüllerMP, Narasimhachar V, Spekkens RWand HalpernNY 2013 The resource theory of informational nonequilibrium in thermodynamics (arXiv:1309.6586) [63] Vedral V2002 Rev. Mod. Phys. 74 197 [64] Barreiro J, Müller M, Schindler P, Nigg D, Monz T, Chwalla M, Hennrich M, RoosCF, Zoller P and Blatt R 2011 Nature 470 486 [65] Müller M, Hammerer K, Zhou Y, RoosCF and Zoller P 2011 New J. Phys. 13 085007 [66] Preskill J 1998 Introduction to Quantum Computation and Information ed H-K Lo, T Spiller and S Popescu (Singapore: World Scientific) pp 213–69 [67] Dennis E, Kitaev A Y, Landahl A and Preskill J 2002 J. Math. Phys. 43 4452 [68] GühneOand TóthG2009 Phys. Rep. 474 1 [69] Horn R A and JohnsonCR 1991 Topics in Matrix Analysis (Cambridge: Cambridge University Press) [70] Magnus J R and NeudeckerH2007 Matrix Differential Calculus with Applications in Statistics and Econometrics (Chichester: Wiley) [71] AbramowitzMand Stegun I A1972 Handbook of Mathematical Functions (New York: Dover)
Collections