Publication:
La evolución de la estrategia de la comunicación persuasiva: de la estrategia global única a las tácticas locales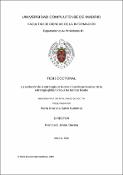 Files
Authors
Advisors (or tutors)
Editors
Publisher
Universidad Complutense de Madrid
Abstract
La comunicación persuasiva del siglo XXI ha establecido un nuevo modelo de actuación. Las campañas de comunicación persuasiva de los medios de comunicación de masas y las redes sociales así lo demuestran. Si en los años 80 y 90 los mensajes utilizados por las empresas y organismos mundiales para el logro del cambio de actitud de los sujetos eran diseñados desde estrategias de comunicación global, con mensajes prácticamente iguales para todos los públicos objetivos del planeta, hoy se puede comprobar la preeminencia de la implementación local. La estrategia ha evolucionado, del imperativo de internacionalización de los 80, a la globalización de los 90, hasta llegar a la realidad económica e informativa de un mundo global del siglo XXI, en que el sujeto parece no aceptar ser uno más. En este trabajo reflexionamos sobre esta realidad para tratar de establecer los aspectos que configuran el nuevo perfil del receptor de la comunicación y que propician el cambio en el modelo de acercamiento al sujeto por parte de los emisores de la comunicación social para el logro del éxito en la persuasión. Es objetivo de esta investigación esclarecer y delimitar los aspectos sociales y humanos que han propiciado un cambio en las preferencias e implicaciones del sujeto del siglo XXI...
Twenty-first century persuasive communication has established a new model for action. Persuasive communication campaigns of mass communication means and of social networks prove this. If the advertisements used by companies and global organisations for the achievement of a change in the subject's attitude in the '80s and '90s were designed from global communication strategies, with practically identical messages for all target audiences in the world, today we can ascertain the pre-eminence of local implementation. The strategy has evolved, from the imperative internationalisation of the '80s, to the globalisation of the '90s, until the current economic and informational reality of the global world in the twenty-first century, in which the subject appears to no longer accept being one of the masses. In this paper we will reflect on this reality so as to try to establish the aspects which configure the communication receiver's new identity and facilitate the change in the model for approaching the subject on the part of social communication transmitters so as to achieve success in persuasion. The goal of this investigation is to clarify and define the social and human aspects which have appeased a change in the preferences and involvements of the subject of the twenty-first century..
Description
Tesis inédita de la Universidad Complutense de Madrid, Facultad de Ciencias de la Información, Departamento de Periodismo III (Teoría General de la Información), leída el 16-10-2015
Collections