Publication:
Locating fuel breaks to minimise the risk of impact of wild fire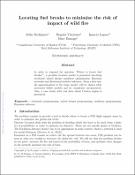 Advisors (or tutors)
Editors
Publisher
R. Piskac c/o Redaktion Sun SITE Informatik V RWTH Aachen
Abstract
In order to respond the question "Where to locate fuel breaks?", a peculiar location model is presented involving stochastic mixed integer nonlinear optimization, Bayesian networks and directional statistic inference. From a first simple approximation to the large model, will be shown what motivates follow models and its complexity incorporated. Also, a case study with real data about Corsica region is presented.
Description
En: G. Di Stefano, A. Navarra Editors: Proceedings of the GEOSAFE Workshop on Robust Solutions for Fire Fighting L'Aquila, Italy, July 19-20, 2018.
Citation
[Cheng and Hadjisophocleous, 2009] Cheng, H. and Hadjisophocleous, G. V. (2009). The modeling of fire spread in buildings by bayesian network. Fire Safety Journal, 44(6):901–908. PT: J; NR: 23; TC: 15; J9: FIRE SAFETY J; PG: 8; GA: 477OZ; UT: WOS:000268529700009. [Garvey et al., 2015] Garvey, M. D., Carnovale, S., and Yeniyurt, S. (2015). An analytical framework for supply network risk propagation: A bayesian network approach. European Journal of Operational Research, 243(2):618. [Leguey et al., 2016] Leguey, I., Bielza, C., and Larranaga, P. (2016). Tree-structured bayesian networks for wrapped cauchy directional distributions. Advances in Artificial Intelligence, Caepia 2016, 9868:207–216. PT: S; CT: 17th Conference of the Spanish-Association-for-Artificial-Intelligence (CAEPIA); CY: SEP 14-16, 2016; CL: Salamanca, SPAIN; SP: Spanish Assoc Artificial Intelligence, BISITE, Univ Salamanca, Springer Team, AEPIA; NR: 25; TC: 0; J9: LECT NOTES ARTIF INT; PG: 10; GA: BG2XK; UT: WOS:000387750600019. [Levchenkov, 2000] Levchenkov, V. (2000). Solution of equations in boolean algebra. Computational Mathematics and Modeling, 11(2):154–163.
Collections