Publication:
Invitación a la defensa de la música disco de Richard Dyer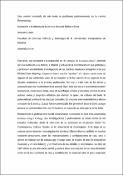 Authors
Advisors (or tutors)
Editors
Abstract
Este texto, que acompaña a la traducción de "En defensa de la música disco", pretende ser una invitación a su lectura, a retomar y actualizar la conversación en qué participa y a promover sensibilidades investigadoras de las prácticas musicales semejantes a las que Richard Dyer despliega. Espero no hacer muchos "spoilers" al ir dando cuenta tanto de algunos de sus contenidos como de su recepción y de las razones de su vigencia en las décadas posteriores a su primera publicación. No trato solo de los textos y autoras/es que citan explícitamente el texto de Dyer, sino que se exponen también resonancias, conexiones, rimas, ecos, de su enfoque, análisis y nociones, con los de otras autoras, autores, textos y proyectos artísticos que abordan lo queer, las culturas del baile, la potencialidad política de las prácticas culturales, los vínculos entre materialismo y afectos o el poder de lo erótico. Quizás fuera recomendable leer primero el texto de Dyer, aunque parezca un contrasentido leer una invitación a la lectura de un texto que ya se ha leído.
Description
Una versión reducida de este texto se publicará próximamente en la revista Resonancias. Revista de Investigación Musical http://resonancias.uc.cl/en/
Citation
Banderas Grandela, Daniela. (2009). "Música de la cotidianeidad: su protagonismo en la reparación psicológica de mujeres violentadas". Revista Musical Chilena 212: 103-120 Belbel Bullejos, María José. 2012. "Yes, we camp. El estilo como resistencia. Feminismos, disidencia de género y prácticas subculturales en el Estado español". Desacuerdos 7: 160-173., acceso 15 de julio 2020. https://www.museoreinasofia.es/publicaciones/desacuerdos#numero-7 Berlant, Lauren. (2020) Optimismo cruel. Madrid: Caja Negra Editora. Bermúdez, Silvia. (2011). "La apuesta pop de Alaska. La estética warholiana en los proyectos musicales con los Pegamoides". En Ventanas sobre el Atlántico: Estados Unidos-España durante el postfranquismo (1975-2008) editado por Carlos X. Ardavín, Jorge Marí, 87-97. Valencia: Universidad de Valencia. Burston, Paul. (1995). What Are You Looking At? Queer Sex, Style and Cinema. London and New York: Cassell. Caro Cocotle, Guadalupe. (2017). "Un acorde disonante: Juan Gabriel y la frontera sonora de lo gay". Interdisciplina 5(11): 25-41. Creekmur, Corey K. y Alexander Doty. (eds) (1995). Out in Culture: Gay, Lesbian and Queer Essays on Popular Culture. London: Cassell Del Val Ripollés, Fernán. (2017). Rockeros insurgentes, modernos complacientes: un análisis sociológico del rock en la Transición (1975-1985). Madrid, Fundación SGAE. Duran, Gloria G. (2011). Dandys extrafinos. Madrid: Ediciones Papel de Fumar, acceso 15 de agosto 2020 https://eprints.ucm.es/59912/ Fernández, June. (2019) "Si no puedo perrear, no es mi revolución". Pikara Magazine, acceso el 15 de agosto 2020 https://www.pikaramagazine.com/2019/07/si-no-puedo-perrear-no-es-mi-revolucion/ Frith, Simon y Goodwin, Andrew (1990) On Record: Rock, Pop, and the Written Word. New York: Pantheon. Frith, Simon y McRobbie, Angela. (1978) "Rock and Sexuality". Screen Education, 29: 3-19. García, Luis-Manuel. (2014). "Richard Dyer, "In Defence of Disco" (1979)". History of Emotions - Insights into Research, November, DOI: 10.14280/08241.32, acceso 14 de agosto 2020 https://www.history-of-emotions.mpg.de/texts/in-defence-of-disco.. Garnier, Laurent (2006). Electroshock. Barcelona: Global Rhythm Press. Garrote, Verónica. (2013). La estrategia de la alegría en los colectivos artísticos de la dictadura y la post dictadura, España y Argentina (1973-1989). Tesis doctoral. Rutgers University, acceso 15 de julio 2020 https://rucore.libraries.rutgers.edu/rutgers-lib/41771/record/.. Gatto, Ezequiel. (2016). "Música, cultura y racializaciones. Debates en torno a la definición de música negra en Estados Unidos". Estudios del ISHir, 16: 156-180, acceso 14 de agosto de 2020, http://revista.ishir-conicet.gov.ar/ojs/index.php/revistaISHIR/article/view/643. Gilbert, Jeremy. (2006). "Dyer and Deleuze: Post-Structuralist Cultural Criticism". New Formations, 38: 109-127. Gilbert, Jeremy y Pearson, Ewan. (1999). Discographies. Dance music and the politics of sound. London, Routledge. Grant, Katherine y Kooijman, Jaap. (2016). "Pleasure/Obvious/Queer: A Conversation with Richard Dyer". European Journal of Media Studies, 5(1): 95-110. Hamilton, M. aka Materia Hache (2019) "El mapa del porvenir: una invitación a la fiesta del sótano a las azoteas: una línea de fuga del control y del disciplinamiento". En El libro del buen Ɐmor editado por Fefa Vila y Javier Sáez, 236-267. Madrid: Ayuntamiento de Madrid. Herrera, Coral. (2011) La construcción sociocultural del amor romántico. Madrid: Editorial Fundamentos. Herrera Quintana, Elena. (2019) "Beyoncé y la ignorancia blanca", acceso el 15 de agosto 2020, https://sociologiaordinaria.com/2019/02/04/beyonce-y-la-ignorancia-blanca/ Kooijman, Jaap. (2005). "Turn the beat around. Richard Dyer's 'In Defence of Disco' revisited". European Journal of Cultural Studies, 8(2): 257-266. Kureishi, Hanif y Savage, Jon (eds.). (1995). The Faber Book of Pop. Eds. London and Boston: Faber and Faber. Lasén, Amparo. (2004) "El baile de las máquinas". En Musiques, arts et technologies, editado por Roberto Barbanti, Enrique Lynch, Carmen Pardo, Makis Solomos, 303-315. Paris: L'Harmattan, acceso 14 de agosto 2020. https://www.researchgate.net/publication/342769003_EL_BAILE_DE_LAS_MAKINAS Lasén, Amparo y Martínez de Albéniz, Iñaki. (2001) "El tecno: variaciones sobre la globalización". Política y Sociedad, 36: 129-149, acceso 14 de agosto 2020. https://revistas.ucm.es/index.php/POSO/article/download/POSO0101130129A/24416 Lawrence, Tim. (2006a). "'I Want to See All My Friends At Once': Arthur Russell and the Queering of Gay Disco". Journal of Popular Music Studies, 18, 2: 145-68. ………………... (2006b). "In Defence of Disco (Again)". New Formations, 38: 128-146. López Castillo, Teresa. 2013. "Entre platos anda el baile. Una revisión crítica de la construcción de la identidad de género en la historia de la música dance". Musiker 20: 255-274 -----------------------------2015. Música electrónica y cultura de club: un estudio postfeminista de la escena española. Tesis doctoral. Universidad de la Rioja, acceso 15 de julio 2020 https://dialnet.unirioja.es/servlet/tesis?codigo=46122. ----------------------------2016. "Remezclas' de las políticas de género en la música electrónica: cultura de club lesboqueer". Cuadernos de etnomusicología 8, acceso 15 de julio 2020 http://www.sibetrans.com/etno/cuaderno/25/cuadernos-de-etnomusicologia-n-8. López Munuera, Iván, Alba, Manu (2020) Unzipped Parties, Voices #16, acceso 4 de noviembre 2020 https://www.pavilionrus.com/en/voices/ivan-lopez-munuera Lorde, Audre. (1984). "The Uses of the Erotic: The erotic as Power", en Sister Outsider: Essays and Speeches. New york: Crossing Press. Traducción al español de 2003, acceso el 15 de agosto 2020 https://sentipensaresfem.wordpress.com/2016/12/03/ueecpal/. Sloterdijk, Peter. (2000) El pensador en escena. El materialismo de Nietzsche. Madrid: Pretextos Textos en español de Richard Dyer (ed.). (1982). Cine y homosexualidad. Barcelona: Laertes. (2001) Las estrellas cinematográficas: historia, ideología, estética, Barcelona: Paidós. (2006) "Cine negro desviado". Archivos de la Filmoteca. (54), 44-69.
Collections