Publication:
Cuidar profesionalmente. Una aproximación a la profesión enfermera en España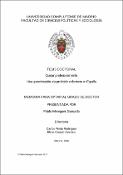 Files
Authors
Advisors (or tutors)
Editors
Publisher
Universidad Complutense de Madrid
Abstract
La tesis se compone de dos partes: una primera en la que se delimita el punto de observación desde el que nos hemos aproximado a la profesión enfermera en España y una segunda en la que presentamos los resultados de una investigación empírica sobredicha profesión.Dado que desde hace cuatro décadas la enfermería española viene autodefiniéndose como la profesión del cuidado, en la primera parte hemos mantenido un diálogo con la sociología de las profesiones y, en menor medida, con algunos de los planteamientos elaborados desde la sociología de los cuidados. Con ello hemos constatado que los términos cuidados y profesión son polisémicos, ambiguos y esquivos,por lo que cuentan con múltiples definiciones sociológicas y no existe un consenso sobre su construcción como objeto de estudio. Pese a la pluralidad de las aproximaciones, la utilización de estos dos términos en las ciencias sociales suele estar mediada por las connotaciones positivas que contienen. Así, la sociología tiende a conceptualizar el cuidado como una actividad feminizada que produce bienestar y cubre necesidades sociales, colocando en un segundo plano el análisis de los cuidados desde la perspectiva del trabajo. En cuanto a la sociología de las profesiones, su origen funcionalista sigue pesando en la recurrente desatención al carácter salarial de las profesiones de nuestros días
This Doctoral PHD is composed of two parts: the first one defines theobservation point from which we have approached the nursing profession in Spain andin the second one we have presented the results of an empirical research about theprofession.The Spanish nursing has defined itself as the care profession for the last fourdecades, therefore, in the first part of this PHD we have maintained a dialogue with thesociology of professions and, to a lesser extent, with some of the theses of the sociologyof care. And we have observed that terms as care and profession are polysemic,ambiguous and elusive, and have multiple sociological definitions and there is not aconsensus about their construction as object of study. Regardless the variety ofapproaches the use of both terms in social sciences has usually got positive connotations.The sociology tends to conceptualize care as a feminized activity that produces wellbeingand covers necessities and puts at a second level the analysis of care from theperspective of the sociology of work. Regarding the sociology of professions, itsfunctionalist background is important to explain the fact that it has neglected theprofessions' wage dimension nowadays...
Description
Tesis de la Universidad Complutense de Madrid, Facultad de Ciencias Políticas y Sociología, leída el 01-06-2017
Collections