Publication:
Lecturas y usos de las viñetas sobre el Islam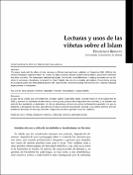 Authors
Advisors (or tutors)
Editors
Abstract
El caso de las viñetas que sobre Mahoma y el Islam publicó el periódico danés Jyllands-Posten el 30 de septiembre de 2005, y airearon los islamistas de Dinamarca y otros países, provocando comportamientos violentos, y los debates que todo ello fue suscitando, es ilustrativo, no sólo de diferencias a la hora de valorar la libertad de expresión o lo que es blasfemia y denigración de otros, sino también el desconcierto de la población europea y sus líderes políticos ante los problemas derivados de una muy deficiente integración cultural de grandes bolsas de población.
This paper deals with the affaire of strip cartoons on Mohammed and Islam published on September 30th, 2005 by the Danish newspaper Jyllands-Posten. As known, the strips caused a heated reaction among Islamic groups from Denmark and other countries. The subsequent debates highlighted not only the broad differences in judging concepts such as fre- edom of expression, blasphemy or respect for others' beliefs, but also the prevailing atmosphere of uncertainty among the European public and their political leaders with regard to the problems resulting from the failure to culturally integrate larger pockets of immigrants.
Collections