Publication:
Efectos turísticos del Covid-19 en la provincia de Alicante: Calpe estudio de caso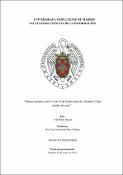 Authors
Advisors (or tutors)
Editors
Abstract
La crisis sanitaria provocada por el coronavirus SARS-CoV-2 ha desencadenado en la mayor caída del PIB en tiempos de paz. Sólo la crisis financiera de 1868 y la Guerra Civil, con respectivas variaciones anuales del -13,3% y -26,8% han supuesto una recesión económica mayor en la historia de España (Comín y Hernández, 2013). Según la última revisión publicada por el INE, la economía española experimentó una contracción del PIB del -10,8%, dos décimas por debajo de lo previsto con anterioridad. El crecimiento del 17,1% del tercer trimestre del año (INE, 2020), correspondientes al trimestre de verano, no ha podido rebajar este dato que sitúa España como la economía más golpeada por la pandemia tras Argentina, Reino Unido e Italia según el informe "OECD Economic Outlook, Interim Report March 2021" publicado por la OCDE el 9 de marzo de 2021. Las provincias españolas más afectadas tienen una dependencia directa respecto a los ingresos por entrada de turismo internacional que, a su vez, repercute en un sector cuyo tejido empresarial de servicios y hostelería, principalmente, ha experimentado una caída drástica del 15,6% (INE, 2021) en volumen de ventas debido a la desocupación turística a nivel nacional. Estas circunstancias justifican la realización del presente Trabajo Final de Grado que hemos dividido en dos partes. Una teórica y otra práctica, con un reportaje, pero en las que ambas tratan sobre el impacto turístico que ha tenido el COVID-19 en la provincia de Alicante, siendo la ciudad de Calpe elegida como estudio de caso por ser destino turístico con una potente oferta ligada al turismo con 4.886 alojamientos turísticos con un total de 30.870 plazas (Observatori Marina Alta, 2020).
The health crisis caused by the SARS-CoV-2 coronavirus has triggered the largest drop in GDP in peacetime. Only the financial crisis of 1868 and the Civil War, with respective annual variations of -13.3% and -26.8%, have led to a major economic recession in the history of Spain (Comín and Hernández, 2013). According to the latest review published by the INE, the Spanish economy experienced a GDP contraction of -10.8%, two tenths less than previously forecast. The growth of 17.1% in the third quarter of the year (INE, 2020), corresponding to the summer quarter, has not been able to reduce this figure, which places Spain as the economy most affected by the pandemic after Argentina, the United Kingdom and Italy according to the report "OECD Economic Outlook, Interim Report March 2021" published by the OECD on March 9, 2021. The most affected Spanish provinces have a direct dependence on income from international tourism entry which, in turn, affects a sector whose business fabric of services and hospitality, mainly, has experienced a drastic fall of 15.6% (INE, 2021) in sales volume due to tourist unemployment at the national level. These circumstances justify the completion of this Final Degree Project that we have divided into two parts. A theoretical and a practical one, with a report, but in which both deal with the tourist impact that COVID-19 has had in the province of Alicante, the city of Calpe being chosen as a case study for being a tourist destination with a powerful offer linked to tourism with 4,886 tourist accommodations with a total of 30,870 beds (Observatori Marina Alta, 2020).