Publication:
Utilidad Clínica del trasplante de progenitores hematopoyéticos de donantes alternativos en pacientes con hemopatías malignas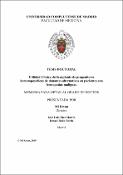 Files
Authors
Advisors (or tutors)
Editors
Publisher
Universidad Complutense de Madrid
Abstract
El trasplante de progenitores hematopoyéticos es el único tratamiento curativo para múltiples hemopatías malignas. El donante preferible desde sus inicios, sigue siendo el hermano HLA-idéntico. Sin embargo, en nuestro entorno, la probabilidad de que un paciente que requiera un trasplante alogénico disponga de un hermano HLA-compatible es de sólo un 30%. En esta situación, la estrategia estándar consiste en buscar un donante no emparentado en los registros nacionales e internacionales. Sin embargo, a pesar del crecimiento en el número de donantes a nivel mundial, la probabilidad de encontrar a tiempo un donante no emparentado HLA-idéntico es de alrededor del 60%. Por tanto, un número significativo de pacientes requiere, para su curación, de un donante o una fuente de progenitores hematopoyéticos alternativos a los descritos. Entre ellos, los progenitores de sangre de cordón umbilical y el donante familiar HLAhaploidéntico constituyen alternativas disponibles para estos pacientes...
Hemopoietic stem cell transplantation (HSCT) is the only curative treatment for multiple malignant hemopathies. The preferred donor is still an HLA-identical sibling. However,in our environment, the probability that a patient requiring a allogeneic transplant has anHLA-compatible sibling is only 30%. In this situation, the standard strategy is to look for an unrelated donor in national and international registries. However, despite the growth in the number of donors worldwide, the probability of finding an unrelated HLA-identical donor in time is around 60%. Therefore, a significant number of patients require, for their cure, an alternative donor or source of hematopoietic progenitors. Among them, umbilical cord blood stem cells (UCB) and HLA-haploidentical related donors are available alternatives for these patients...
Description
Tesis inédita de la Universidad Complutense de Madrid, Facultad de Medicina, leída el 04-11-2019
Collections