Publication:
Fiabilidad de los registros oclusales intermaxilares obtenidos mediante sistemas digitales: estudio clínico transversal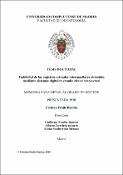 Files
Authors
Advisors (or tutors)
Editors
Publisher
Universidad Complutense de Madrid
Abstract
En odontología restauradora, la estabilidad oclusal es uno de los factores más influyentes para lograr el éxito. El desarrollo de los nuevos sistemas digitales, como el uso de los escáneres intraorales, escáneres extraorales y sistemas capaces de registrar los contactos oclusales, como el sistema electrónico de análisis oclusal "T-Scan III", se muestran prometedores en acortar los tiempos de trabajo, ofrecer procedimientos más confortables y mejorar la calidad de éstos. Tradicionalmente, el estándar para analizar los contactos oclusales es el papel articular de diferentes grosores y el shim stock (papel de aluminio de 8 micras). Según la literatura científica revisada, consideramos el papel articular de 8 micras (mejor que el de 40 o 200 micras) el gold estándar para detectar los contactos oclusales. El objetivo principañ de este estudio transversal es comparar los contactos oclusales registrados intraoralmente, con metodología analógica (papel articular de 8, 40, 200 micras y shim stock) y extraoralmente, en los modelos de yesos dentales, con los contactos oclusales obtenidos por los sistemas digitales (escáner intraoral, escáner extraoral y sistema de análisis oclusal T-Scan III). CONCLUSIONES: Con las limitaciones que presenta este estudio , dentro de los métodos convencionales, el grupo que registra los contactos oclusales con mayor fiabilidad es el grupo de shim stock intraoral y dentro de los sistemas digitales es el uso del escáner intraoral.
During the last 10 years digital impressions obtained using chairside intraoral scanners have been increasingly implemented. This information is based on the use of maxillary and mandibular digital models in STL format (Standard triangle Language). In order to obtain a correct interocclusal spatial position of these files, reference points processed with a mathematical algorithm is required. Occlusal contacts and stability are known to be one of the most important factors influencing the restoration of the dentition. The development of digital methods of recording occlusal contacts, like the T-Scan III, has shown a promise as a means by which dentistry can be made more comfortable, faster and possibility of higher quality. Tradionally, articulating paper with different thickness and shim stock (8-micron aluminium foil) are usually adopted as a standard, to analyse the occlusal contacts in plaster models or directly in patients. According to the reviewed literature, the occlusal tactile sensibility for natural teeth can be as low as 8-10 micras, thus the 8 micras articulating paper, better than other thickness as 40 or 200 micras, is frequently considered as the gold standard to detect interocclusal contacts. The aim of the present cross-sectional study was to compare the interocclusal contact records by intra- and extraoral digital scanners, T-scan III system and by conventional method directly in patients (articulatin paper 8, 40, 200 micras and shim stock) and in plaster models. CONCLUSIONS: Within the limitations of the present study, results suggest greater reliability to record occlusal contacts with the conventional methods using the intraoral shim stock and with digital methods using the intraoral scanner.
Description
Tesis inédita de la Universidad Complutense de Madrid, Facultad de Odontología, Departamento de Odontología Conservadora y Prótesis Bucofacial, leída el 21-10-2019
Collections