Publication:
Evaluación clínica y refractiva, tasa de complicaciones y análisis de la supervivencia del injerto a largo plazo en pacientes intervenidos mediante diferentes técnicas de queratoplastia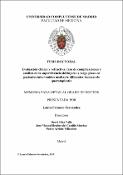 Files
Authors
Editors
Publisher
Universidad Complutense de Madrid
Abstract
La queratoplastia es una de las principales cirugías realizadas sobre la córnea. Ha ido evolucionando a lo largo del tiempo en cuanto a técnicas e indicaciones. Frente a la queratoplastia penetrante, en la actualidad se ha producido una transición a la realización de técnicas lamelares, con reemplazo selectivo de las capas corneales afectadas. En la práctica clínica, coexisten diferentes procedimientos quirúrgicos de queratoplastia, con sus indicaciones, ventajas e inconvenientes...
Keratoplasty is one of the main surgeries performed on the cornea. It has evolved over time in terms of techniques and indications. In contrast to penetrating keratoplasty, there has been a transition to performing lamellar techniques, with selective replacement of the affected corneal layers. In clinical practice, different surgical procedures of keratoplasty coexist with their indications, advantages, and disadvantages...
Description
Tesis inédita de la Universidad Complutense de Madrid, Facultad de Medicina, Departamento de Inmunología, Oftalmología y Otorrinolaringología, leída el 20-11-2019
Collections