Publication:
Características hidrodinámicas del medio producido en colisiones Pb-Pb a√sNN=2.76 TeV y 5.02 TeV en el LHC utilizando el detector ALICE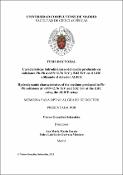 Files
Authors
Advisors (or tutors)
Editors
Publisher
Universidad Complutense de Madrid
Abstract
La constatación de que el medio producido en colisiones relativistas de iones-pesados, denominado plasma de quarks y gluones (QGP por sus siglas en inglés), se comporta casi como un fluido ideal originó un aluvión de iniciativas para intentar determinar sus características. Aparte de la ecuación de estado y del diagrama de fases, las características más relevantes de un fluido son sus coeficientes de transporte. Los coeficientes de trasporte conducen la evolución del fluido en su retorno al estado de equilibrio. El éxito de los modelos hidrodinámicos en reproducir valores medidos experimentalmente llevó a la proliferación de métodos que extraían los coeficientes de transporte del QGP a partir de simulaciones hidrodinámicas. Utilizar modelos para inferir los coeficientes de transporte incorpora una incertidumbre inherente al modelo que se elije y a las condiciones iniciales con las que se inicia la simulación. El objetivo de esta tesis es el de extraer los coeficientes de transporte del QGP directamente,desde medidas experimentales, utilizando correlaciones de las componentes del momento de pares de partículas...
The finding that the medium produced in relativistic heavy-ion collisions, denominated as quark gluonplasma (QGP), behaves almost like an ideal fluid caused a flood of initiatives to try to determine their characteristics. Apart from the equation of state and the phase diagram, the most relevant characteristics of a fluid are its transport coefficients. The transport coefficients drive the evolution of the fluidin its return to equilibrium. The success of hydrodynamic models in reproducing experimentally measured values led to the proliferation of methods that extracted the transport coefficients of QGP from hydrodynamic simulations. Using models to infer transport coefficients incorporates an uncertainty inherent in the model chosen and the initial conditions with which the simulation begins. The objective of this thesis is to extract the transport coefficients of the QGP directly, from experimental measures, using two-particle momentum components correlations...
Description
Tesis inédita de la Universidad Complutense de Madrid, Facultad de Ciencias Físicas, Departamento de Física Teórica, leída el 21-11-2019
Collections