Publication:
Género y políticas de asilo en el estado español: una perspectiva antropológica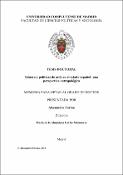 Files
Authors
Advisors (or tutors)
Editors
Publisher
Universidad Complutense de Madrid
Abstract
Este trabajo de tesis doctoral aborda el análisis del proceso de construcción de las relaciones de género en el régimen de asilo en España. Se va a analizar como la categoría de "refugio" se construye culturalmente articulándose a través de normativas de género que resitúan a hombres y mujeres en espacios supuestamente naturales y legítimos, donde a los hombres se les asigna el ámbito público y a las mujeres el ámbito privado, en el marco del contexto jurídico internacional y nacional en el que no se reconocen las experiencias de persecución de las mujeres, como evidencia la ausencia de la categoría género en los motivos contemplados en la Convención de Ginebra del 1951 sobre el Estatuto de Refugiado, al reproducir, de esta manera, relaciones de poder desiguales entre las mujeres y sus homólogos masculinos. Así, las mujeres han sido configuradas en el régimen de asilo como un grupo subalterno, donde los hombres representan el hegemónico, es decir que mientras a las mujeres el orden de género las sitúa en una situación secundaria y de dependencia, los hombres se sitúan en una condición primaria y activa...
This doctoral thesis work addresses the analysis of the process of construction of gender relations in the asylum regime in Spain. It is going to analyze how the category of "refuge" is culturally constructed by articulating through gender norms that resituate men and women in supposedly natural and legitimate spaces, where men are assigned the public sphere and women the private sphere , within the framework of the international and national legal context in which the experiences of persecution of women are not recognized, as evidenced by the absence of the gender category in the grounds contemplated in the 1951 Geneva Convention on the Status of Refugees, reproduce, in this way, unequal power relations between women and their male counterparts. In this way, women have been configured in the asylum regime as a subaltern group, where men represent the hegemonic, that while the gender order places women in a secondary situation of dependency, men are placed in a primary and active condition...
Description
Tesis inédita de la Universidad Complutense de Madrid, Facultad de Ciencias Políticas y Sociología, leída el 28-11-2019
Collections