Publication:
La construcción cultural del parto respetado en Madrid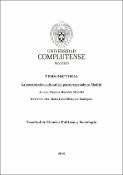 Files
Authors
Advisors (or tutors)
Editors
Publisher
Universidad Complutense de Madrid
Abstract
Desde principios del siglo XXI, el término 'parto respetado' se encuentra cada vez más presente en los discursos y prácticas de la sociedad española, abundando, principalmente en Madrid las asociaciones e instituciones que abogan por una atención institucional al parto más respetuosa. Esta tesis doctoral se centra en demostrar que el parto respetado es una noción culturalmente construida en torno a una serie de principios e ideales promovidos por un tipo de activismo feminista que reclama mejor trato hacia las mujeres en el contexto de la atención obstétrica al parto. Desde 2003, el activismo por el parto respetado, representado en Madrid y el resto de España por asociaciones como El Parto es Nuestro, recoge el testigo de aquellos movimientos de mujeres de la segunda mitad del siglo XX, que buscaban promover una mejora en sus derechos en materia de salud sexual y reproductiva. Avalada por la teoría feminista respecto a la soberanía y la autonomía de las mujeres sobre sus cuerpos, la cultura de parto respetado reacciona y hace frente ante una cultura biomédica de atención al parto caracterizada por una excesiva patologización de procesos como el embarazo y el parto, así como una consecuente medicalización y sobreintervencionismo por parte del personal de salud sobre los cuerpos de las mujeres durante el parto...
Since the beginning of the 21st century, the term 'respected childbirth' has been increasingly present in the speeches and practices of Spanish society, abounding, mainly in Madrid, associations and institutions that advocate for a more respectful institutional care for childbirth. This doctoral thesis focuses on proving that respected childbirth is a culturally constructed notion based on a series of principles and ideals promoted by a type of feminist activism that demands a better treatment of women in the context of obstetric healthcare.Since 2003, the respected childbirth activism, represented in Madrid and the rest of Spain by associations like El Parto es Nuestro, carries on from those women movements during de second half of the 20th century that sought to promote an improvement in their sexual and reproductive health rights. Endorsed by the feminist theory regarding the women's sovereignty and autonomy over their bodies, the respected childbirth culture reacts and faces a biomedical culture of childbirth characterized by an excessive pathologization of processes such as pregnancy and birth, as well as a consequent medicalization and over-interventionism carried out by health staff on women's bodies during labor...
Description
Tesis inédita de la Universidad Complutense de Madrid, Facultad de Ciencias Políticas y Sociología, leída el 24-01-2020
Collections