Publication:
La poética del hiperrealismo obsceno en la obra de Pedro Juan Gutiérrez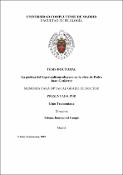 Files
Authors
Advisors (or tutors)
Editors
Publisher
Universidad Complutense de Madrid
Abstract
El objeto de esta investigación es el ciclo Centro de Habana del autor cubano Pedro Juan Gutiérrez (este ciclo literario consta de cinco obras narrativas: Trilogía sucia de La Habana; El Rey de La Habana; Animal tropical; El insaciable hombre araña; Carne de perro). Dentro de las publicaciones mencionadas, he identificado una poética peculiar que he definido como: hiperrealismo obsceno. De hecho, he llegado a la conclusión de que el ciclo de Centro Habana no tiene nada que ver con otras corrientes literarias y otras poéticas a las que la crítica vincule a menudo al autor(como por ejemplo el realismo sucio o el realismo). A través de mi investigación, y una serie de entrevistas con el mismo autor a lo largo de los años, pude identificar, en la mencionadas obras, elementos de verismo siciliano (que plantearé como una caracterización literaria más precisa, alternativa a las más reciente definición de realismo sucio, demostrándolo a lo largo de la tesis a través de un análisis estético y filológico), del estoicismo, de las teorías psicoanalíticas relacionadas con el concepto de los significantes lacanianos, y el paroxismo visual representado en el arte a través del hiperrealismo...
The objective of this research is the so-called Centro Havana cycle by the Cuban author Pedro Juan Gutiérrez (Such literary cycle consists of five publications: Trilogía sucia de La Habana; El Rey de La Habana; Animal tropical; El insaciable hombre araña; Carne de perro). Within the aforementioned publications I have found a unique poetics which I have named: Obscene Hyperrealism. In fact, I believe that the Centro Havana cycle does not show anything in common with the rest of the literary trends and other typologies of poetics with which the author is often associated by the critics. (for example, dirty realism or realism). After conducting my research and through interviews that the author has released during recent years, I was able to identify elements that are in common with the Sicilian verismo (I will demonstrate that the verismo is a more correct and natural definition of the author's works as opposed to the latest definition of dirty realism, which I will discredit through an aesthetic and philological analysis), Parmenides' stoicism, psychoanalytical theories (that refer to the concept of Lacan's signifiers), and the visual height present in the art through the hyperrealism. I believe that, in Pedro Juan Gutiérrez's works, there is a total absence of represented reality and the "true" and the "plausible" are presented in the form of "real" through the hyperrealism, which aims to represent something in a such a realistic way that appears "real"...
Description
Tesis inédita de la Universidad Complutense de Madrid, Facultad de Filología, leída el 15-11-2019
Collections