Publication:
La ciudad fronteriza: urbanización y espacio público en la España urbana del interior : Guadalajara, 1840-1905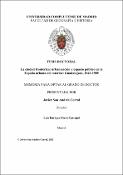 Files
Advisors (or tutors)
Editors
Publisher
Universidad Complutense de Madrid
Abstract
Esta tesis doctoral se ocupa de la ciudad y la urbanización en la España de la segunda mitad del siglo XIX y los primeros años del XX. Para ello, se ha elegido como objeto de estudio Guadalajara, una pequeña capital de provincia castellana, que ocupó una posición subalterna en la red urbana del interior en torno a Madrid, y en la que el cambio histórico adoptó un ritmo más moderado que en otros espacios más populosos y dinámicos. El trabajo explora dos líneas analíticas fundamentales. La primera de ellas se ocupa de la urbanización, en sus dimensiones cultural, demográfica y funcional. En primer lugar, se estudian los cambios funcionales operados en la ciudad, como consecuencia de su transformación en capital de una de las cincuenta provincias españolas y las consecuencias que ello tuvo para su mercado de trabajo y su inserción en la red urbana del interior en torno a Madrid. En segundo lugar, se analizan las transformaciones demográficas, tanto en un sentido cuantitativo, como cualitativo, prestando especial atención a los cambios que afectaron a la inmigración, la mortalidad y la familia. Por otro lado, se estudian los cambios que afectaron al comportamiento de sus habitantes como consecuencia de la asimilación de la modernidad...
This Doctoral Thesis analyses the town and the urbanization in Spain, between the 19th mid-century to the beginning of 20th century. The town chosen is Guadalajara, a Castilian little provincial capital that took a subaltern position in the urban net around Madrid, and where historical change had a moderate rhythm, compared with bigger and more dynamic cities. The work explores two main analytical lines. On the one hand, it is analysed the urbanization phenomenon, in its cultural, demographical and functional dimensions. First, it is studied the functional change, produced by the transformation of the town in one of the fifty provincial capital stablished by the new liberal State in 1833. Second, it analysed the demographical change in their quantitative and qualitative dimensions, focusing on immigration, mortality and family changes. Third, it is studied cultural change, related with its inhabitants' behaviour...
Description
Tesis inédita de la Universidad Complutense de Madrid, Facultad de Geografía e Historia, Departamento de Historia Moderna e Historia Contemporánea, leída el 21-01-2021
Collections