Publication:
The Neurotoxic Role of Extracellular Tau Protein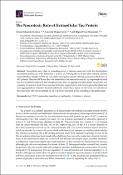 Advisors (or tutors)
Editors
Abstract
Tauopathies are a class of neurodegenerative diseases associated with the microtubuleassociated protein tau, with Alzheimer's disease (AD) being the most prevalent related disorder. Neurofibrillary tangles (NFTs) are one of the neuropathological hallmarks present in the brains of AD patients. Because NFTs are aberrant intracellular inclusions formed by hyperphosphorylated tau, it was initially proposed that phosphorylated and/or aggregated intracellular tau protein was causative of neuronal death. However, recent studies suggest a toxic role for non-phosphorylated and non-aggregated tau when it is located in the brain extracellular space. In this work, we will discuss the neurotoxic role of extracellular tau as well its involvement in the spreading of tau pathologies.
Collections