Publication:
Polyphenols and IUGR Pregnancies: Effects of Maternal Hydroxytyrosol Supplementation on Hepatic Fat Accretion and Energy and Fatty Acids Profile of Fetal Tissues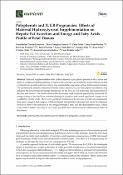 Advisors (or tutors)
Editors
Abstract
Maternal supplementation with hydroxytyrosol, a polyphenol present in olive leaves and fruits, is a highly promising strategy to improve the oxidative and metabolic status of fetuses at risk of intrauterine growth restriction, which may diminish the appearance of low-birth-weight neonates. The present study aimed to determine whether hydroxytyrosol, by preventing lipid peroxidation, may influence the fat accretion and energy homeostasis in the liver, as well as the fatty acid composition in the liver and muscle. The results indicate that hydroxytyrosol treatment significantly decreased the energy content of the fetal liver, without affecting fat accretion, and caused significant changes in the availability of fatty acids. There were significant increases in the amount of total polyunsaturated fatty acids, omega-3 and omega-6, which are highly important for adequate fetal tissue development. However, there were increases in the omega-6/omega-3 ratio and the desaturation index, which make further studies necessary to determine possible effects on the pro/anti-inflammatory status of the fetuses.
Collections