Publication:
Assessing employee-owned firms: an examination of the Spanish economic model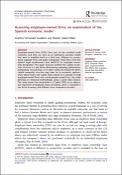 Advisors (or tutors)
Editors
Abstract
Employee-owned firms (EOFs) form part of the so-called social economy, and they are seen as an alternative business model that aims to establish itself as a third way, different to conventional capitalist firms and public enterprises. These firms meet the Spanish legal requirements (Law 44/2015) for employee ownership designation. This paper assesses whether the capital ownership structure is a key factor determining operating performance, productivity and solvency, or in other words, the impact the firm's capital ownership structure may have on its economic performance, labour factor and capital factor. Based on a sample of small employee-owned firms and non-employee owned firms, the study develops an empirical methodology using a panel data analysis. The study shows the characteristics of Spain's EOFs as an alternative legal form of employee share ownership, which is included in the Social Economy, but different from cooperative societies.
Collections