Publication:
Novel Ingredients Based on Grapefruit Freeze-Dried Formulations: Nutritional and Bioactive Value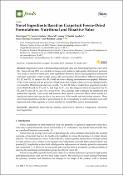 Advisors (or tutors)
Editors
Abstract
Grapefruit is a fruit with interesting nutritional value and functional properties, but a short life. Freeze-drying (FD) is a valuable technique as it produces high-quality dehydrated products. This study is aimed to obtain new food ingredients based on freeze-dried grapefruit formulated with high molecular weight solutes (gum arabic and bamboo fiber) in three different proportions (F1, F2, and F3). To improve the FD, a mild microwave drying pre-treatment was applied. Influence of the water content and the presence of high molecular weight solutes on freeze-drying kinetics was tested by Midilli-Kucuk and Page models. The best FD kinetic model fit on grapefruit powders were Midilli-Kucuk for F2 and F3, and Page for F1, and the adequate freeze-drying times for F1, F2, and F3 were 24, 16, and 18 h, respectively. Final samples were evaluated for nutritional and antioxidant capacity. Gum arabic and bamboo fiber present a protector effect, which results in a significant antioxidant capacity due to the protection of flavonoids and antioxidant vitamins. These novel food ingredients could be of great interest for the food industry in order to develop foods with improved antioxidant capacity as well as enriched in natural fibers and/or micronutrients.
Collections