Publication:
Permeability Characteristics of a New Antifungal Topical Amphotericin B Formulation with γ-Cyclodextrins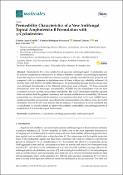 Advisors (or tutors)
Editors
Abstract
Amphotericin B is a low soluble broad-spectrum antifungal agent. Cyclodextrins can be added to amphotericin formulations to enhance both their solubility and antifungal properties. Semisolid amphotericin formulations containing gamma cyclodextrin (AGCD) were prepared and compared with two reference formulations—one of them without any solubility enhancer (A) and the other with DMSO (ADMSO). Rheological, the permeability through hairless mouse skin and antifungal characteristics of the different formulations were evaluated. All three semisolid formulations show low thixotropy characteristics. ADMSO was the formulation with the least consistency, lowest viscosity, and greatest extensibility. The AGCD formulation had the opposite behavior and had both the greatest consistency and viscosity and the lowest extensibility. The lowest permeability was obtained with the reference A formulation while both AGCD and ADMSO had a similar permeability enhancement. According to the antimicrobial in vitro efficacy trials, the AGCD formulation showed 45–60% more activity than the reference A formulation. It can be concluded that γ-cyclodextrin is a useful excipient to improve the solubility, permeability, and antifungal activity of amphotericin B in semisolid topical formulations.
Collections