Publication:
Estrategias de institucionalización del islam en contextos migratorios: el caso de Baitul Muqarram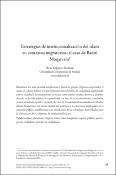 Authors
Advisors (or tutors)
Editors
Publisher
Universitat Rovira i Virgili
Abstract
En una sociedad aconfesional y plural los grupos religiosos comprenden el acceso al espacio público y la participación como derechos de ciudadanía, legitimando ante la sociedad y las instituciones su estatus como actores sociales, diversos y de pleno derecho en la vida pública, y respondiendo, en aras de su reconocimiento e inclusión, a otras demandas sociales. A partir del caso de la comunidad musulmana de Madrid Baitul Muqarram, este texto analiza las prácticas y los discursos desplegados en el escenario público, estableciendo una clasificación de las estrategias desarrolladas para la consecución de sus objetivos de institucionalización.
In a secular and plural society, religious groups understand participation and access to public spaces as a citizenship right. This right legitimizes their status as diverse social actors in public life with full legal rights, and meets various social demands through its pursuit of recognition and inclusion for these groups. This article examines the case of the Baitul Muqarram Muslim community in Madrid and analyses its different practices and discourses in the public sphere, establishing a classification of the strategies that they have developed to achieve their objectives of institutionalization.
Collections