Publication:
Del ¡Ni una más! al #NiUnaMenos: movimientos de mujeres y feminismos en América Latina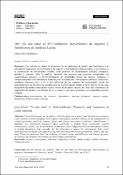 Advisors (or tutors)
Editors
Publisher
Universidad Complutense de Madrid
Abstract
Este artículo se centra en el análisis de las dinámicas de acción que contribuyen a la articulación regional de los movimientos de mujeres y feministas de América Latina, y sus efectos en la construcción de movimientos sociales como procesos de identificación colectiva complejos, plurales y diversos. Para el análisis, destacaré dos procesos que permiten comprender sus características actuales: 1) la diversificación de identidades (desde las mujeres indígenas y afrodescendientes a los feminismos lésbicos) y su "solapamiento" movilizador (conflictos extractivos; conflictos laborales, etc.) y 2) la diversificación de los espacios de participación, desde las manifestaciones en la calle a la incorporación de la participación digital a través del uso de las app, incluyendo las producciones audiovisuales: vídeos de denuncia, raperas, etc. Todo ello contribuye a la ampliación del alcance y la difusión de las acciones y a su mayor presencia en comunidades sociales virtuales.
This article focuses on the analysis of the dynamics of women's and feminist movements in Latin America which strengthen their regional articulation, and their effects on the construction of social movements based on complex, plural and diverse processes of collective identification. I highlight two interrelated processes which contribute to explain these movements' current characteristics. Firstly, the diversification of identities (from indigenous and afro-descendent women to lesbian feminism). And, secondly, the diversification of spaces for participation, from street demonstrations to digital participation using APP, including audiovisual productions (videos, rap, hiphop). These two processes favor the widening of actions' scope and diffusion, and a larger presence of women's and feminist movements in social virtual communities.
Collections