Publication:
El opio en Afganistán. ¿Erradicación o legalización?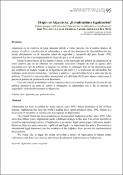 Advisors (or tutors)
Editors
Abstract
Afganistán es un conflicto de larga duración debido a varios factores. En el amplio abanico de causas, el cultivo y producción de adormidera es uno de los elementos de desestabilización que incide directamente en la situación actual de seguridad y desarrollo del país. Desde 1992, Afganistán ha sido el principal productor ilegal de opio a nivel mundial. Desde la intervención de los Estados Unidos, se ha practicado una política de erradicación de estos cultivos que no ha obtenido los resultados esperados. Después de más de quince años ejecutando este tipo de políticas se requiere un cambio de estrategia. Una de las alternativas pasa por establecer un modelo basado en la legalización del cultivo y la producción de adormidera. Sin embargo, varios son los obstáculos —políticos y jurídicos— que dificultan llevar a cabo este tipo de políticas. El restrictivo marco jurídico internacional y la debilidad del Estado afgano condicionan la puesta en práctica de políticas de esta dimensión. Con este artículo pretendemos ofrecer algunas claves para analizar el grado de eficacia de una política alternativa en torno al cultivo y producción de adormidera con el fin de mejorar la seguridad y el desarrollo humano en Afganistán.
Afghanistan has been in conflict for many reasons since 1978. Opium production is one of these reasons. Afghanistan has been the world's leading illicit opium producer since 1992. Opium is a focal point of instability to security and development in Afghanistan. The United States has been practicing an unsuccessful eradication policy since 2001. After more than fifteen years, Afghanistan needs a different strategy in this area. One of the alternatives would be implementing a policy of legalization to promote a legal opium poppy cultivation market. However, there are some obstacles —political and legal— to implement this policy. The restrictive international legal framework and the weakness of the Afghan´s State prevent the implementation these policies. We would like to argue the utility level that a policy of legalization of opium poppy cultivation could have over security and human development improvement in Afghanistan.
Collections